After Kansas University's baseball team dropped an 8-4 decision to Southwest Missouri State on Tuesday at Hoglund Ballpark, junior shortstop Ritchie Price wanted to vent a little.
While it wasn't anywhere near reaching Hal McRae status, his explanation summed up a game in which the Jayhawks (12-5) committed six errors and mustered only three hits.
"I blame myself for the team's defense today," he said. "I'm supposed to anchor the defense, and I suck this year. I don't know what's going on. I've never dealt with this before, and it's really frustrating."
Price committed one of those errors, his ninth of the season, on a throw to first off a routine groundball in the fifth inning, but it was not the most costly of the KU foibles.
Of the eight runs the Bears scored, only one went in the books as an earned run. The damage began in the second inning, when, after a lead-off walk, KU pitcher Mike Zagurski had trouble with a grounder up the middle. Then, with runners on first and second, right fielder Doug Milner dropped a fly ball that scored the first run. SMS catcher Scott Nasby then cleared the bases with a single.
Trailing 5-1 in the bottom of the fifth, the Jayhawks finally made a push offensively. After a single by John Allman and two walks, Milner scorched a double that cleared the bases and pulled Kansas to within one at 5-4.
But any momentum the Jayhawks gained from Milner's shot was lost just minutes later. With one out in the top of the sixth, KU third baseman Erik Morrison committed his second error of the game, and SMS found itself with the bases loaded when Jacob Hilgendorf came to the plate with just one out. Hilgendorf matched Milner's double and helped the Bears regain their cushion at 8-4.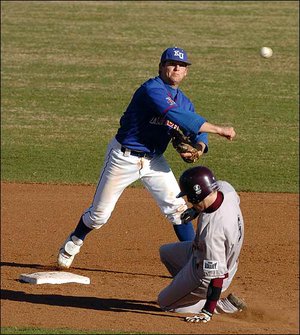 "We weren't playing too well before that ball got hit," Milner said of his double. "I thought the pitching was coming and we could pull out of this game with a win. Our energy was up for a little bit, but right after that it went back down."
The loss to SMS comes just three days after the Jayhawks split a double-dip with Northern Colorado, and they now are left with three days to find answers before heading to Starkville, Miss., to take on Austin Peay and Mississippi State.
"Let me tell you something: That's the most embarrassing performance we've had since I've been here," third-year KU coach Ritch Price said. "Take nothing away from SMS, but that's the worst defensive game we've played, and maybe one of the worst pitching games we've played."
While SMS hurlers Ross Detwiler and Jake Bunten shouldered the load on the mound, Kansas was forced to use six pitchers. Besides Don Czyz and Tyson Corley, who threw the final 32/3 innings, the other four Kansas pitchers were put in jams because of the shoddy defensive performance.
"If we don't walk back in the ballpark tomorrow and prepare properly, it could be an embarrassing weekend," Ritch Price said. "Everybody's involved in that performance. Coaches are involved in that performance, and players are involved in that performance, and certainly we won't staff a game like that again because what you saw today didn't work."
More like this story on KUsports.com