Lew Perkins, who played college basketball at the University of Iowa and worked as athletic director at Connecticut, Maryland and Wichita State, has attended games in some fabulous, historic hoops venues.
"You name it, I have been there. I have seen them all -- Madison Square Garden, Rupp Arena, Cameron, the Palestra," said Perkins, KU's second-year AD. "There is none better than Allen Fieldhouse. None."
Perkins, who is committed to improving the building by sandblasting the outside, and by adding a new floor, windows, seating, lights and sound system, said it was more than the structure itself that made the 50-year-old building so spectacular.
"The first time I walked in this building, I looked around and felt the history and tradition," he said of the fieldhouse, which at 8 tonight officially celebrates its 50th birthday when KU takes on Kansas State.
"Seeing it full with our great fans, you realize it is a building, but it's the people, the fans that truly make it the best."
People who have rocked the fieldhouse for 50 years indeed have had a love affair with the players and coaches. This love affair might have best been described by Jo Jo White in his acceptance speech during his jersey retirement ceremony.
"Every time I stepped on that court I gave you everything I had, everything," White said, "and you gave me everything you had. It made for a great relationship. Yes, a relationship is what it was."
Much has been said about the fieldhouse and great games in the tradition-rich structure in the months leading up to today's 50th anniversary game.
Not much has been said of the folks who have cheered the players and coaches for so many seasons.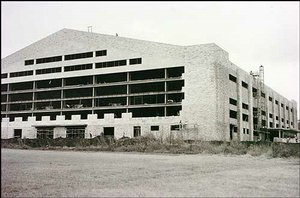 "I get goose bumps every time I walk through the tunnel onto the court," KU coach Bill Self said, echoing a statement repeated by almost all KU players interviewed since the inception of the building. "I get goose bumps every day before practice when I walk past the students camping out for the games."
Dozens of fans line up outside the KU locker room all the way to the court, waiting patiently for the Jayhawks to appear, then applauding them wildly before, during and after games.
"I love that. It's one of the things makes this place special, how much they care and how much they want to show us they support us," senior Aaron Miles said.
The Jayhawks try to pay back their fans by remaining long after the games to sign autographs for those who line up five deep outside the locker room.
There's an obvious affection between the Jayhawks and the fans, especially the young children who seek autographs and pictures.
"I've never seen a place where so many people stick around to get autographs," Self said. "Different players, like Wayne (Simien), if he wanted he could sign for 2 1/2 hours after every game. I don't think they can sign every one. They've got to go do their deal from time to time. I do think our players have a good relationship with the kids."
Self said the fans who have attended games in the fieldhouse for many years don't seem to mind any of the inconveniences -- such as how cramped the seats are.
"I would say how the people view Allen Fieldhouse and what a historic place it is even greater than what I thought it would be," Self said. "There are so many things about it that's old and needs to be modernized. I don't think you ever want to change the feel in any way shape or form, because if we did, I think it would really disappoint a lot of people.
"You could say, 'Don't you guys want a few more inches per seat to spread out just a little bit?' I think the consensus would be, 'No, we like it just the way it is.' I think it is what makes it classic."
Self is thankful that those who built the building 50 years ago did it right.
"First of all, they had the foresight to build it big enough," Self said. "I'm sure back then it was one of the largest in the country. I'm sure we look at the outside needs to be cleaned, windows replaced. At it's foundation, they did such a good job, taking care of it. I love the windows. I love the building."
So did his predecessor, Roy Williams, who paid the ultimate compliment.
"What is that old saying that imitation is the sincerest form of flattery? I'm trying to make our people understand here that I want the Smith Center to be Allen Fieldhouse of the East. And that's the biggest compliment I can give," said Williams, now coach at North Carolina.
"Walking through that tunnel every night for 15 years, I always got goose bumps. And every night it was a thrill. I've seen other big-time places, like Duke University and Indiana and Pauley Pavilion. There's no place like Allen Fieldhouse."
More like this story on KUsports.com