Nothing ever seems to rattle unflappable Kansas University senior Keith Langford.
"He is cool. Keith is 'Freeze.' That's his nickname. He lives by it," KU coach Bill Self said of the senior guard from Fort Worth, Texas.
Langford, who always has been calm and collected while asking for the basketball during crunch time, tonight finally might find it difficult to keep his composure.
He likely won't lose it during an 8 p.m. Big 12 Conference battle between Kansas (21-4, 11-3 Big 12) and Kansas State (15-10, 5-9), but might after the contest when he's asked to deliver his senior speech.
"I've watched so many guys go through and get choked up," Langford said of past teammates Nick Collison, Kirk Hinrich, Jeff Boschee, Bryant Nash, Jeff Graves, Brett Olson, Brett Ballard, Lewis Harrison, Todd Kappelmann and Chris Zerbe, who delivered senior speeches during Langford's first three years at KU.
"It will be an emotional night. I may just go off the top of my head. My No. 1 goal is not to cry," Langford said.
He was asked which of the four seniors -- Langford, Michael Lee, Aaron Miles or Wayne Simien -- would be most likely to break down during their postgame chats to the fans.
"I don't see any of us being big criers," Langford said. "I'm sure we'll all shed a tear, though."
Simien says it's a certainty Langford will sob.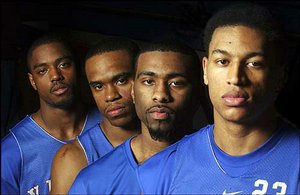 "Keith will be the first to go. It's my vote right there," Simien said. "Once he sees his family, looks at the four of us and the coaches, I'm sure he'll get emotional."
As far as Simien's own presentation, the Leavenworth native said: "I don't have a speech prepared. It'll come from the heart. I think I saw my first Senior Day speech when I was 13. I've looked forward to mine all the way up until this year. Now I'm dreading it because obviously it will be the end for me in the building."
Portland native Lee, who like the rest of the seniors will have family in town tonight, chose two candidates for the crying derby.
"If it's not me, I pick Keith," Lee said. "I just want to make the most of the opportunity. I won't get to run through that tunnel again. It will be unbelievable. I'm real emotional for this game."
Miles, who is the most soft spoken of the foursome while dealing with the media, appears to be a longshot candidate to cry.
"These guys mean a lot to me -- we're still the J-5," Miles said of a "Jayhawk Five" that includes the seniors plus Jeff Hawkins, who has a year of eligibility remaining but arrived in the same recruiting class.
"We've built a close brotherly love. Friendships like this ... you stick with them for all time. I'm excited about it, but truthfully I'm thinking more about K-State. We've got to win the game first, then talk later."
A victory -- KU tripped the 'Cats, 74-65, on Feb. 9 in Manhattan -- would assure the seniors a piece of their third league title in four years.
"We are ultimately going to be defined by what we do this year," Simien said. "I'd say we are guys who did it right, stuck together, came out and played hard night in and out."
Added Miles: "We did it the right way, with class, heart and toughness. We're winners. I want to be like Danny Manning and win a championship. To say, 'We did it.'"
Self says national title or no national title, this group already deserves a place in the hearts of KU fans
"As far as winning, this group would have to go down as good a senior class that's played here," Self said of the foursome, which owns a 108-25 record, two league titles and two Final Fours. "Statistically, Aaron's assists (No. 1 in KU history) and steals (No. 2), Keith's points (No. 6 school history), Wayne (No. 19) would have a chance to be a top-five scorer if not for getting hurt.
The Jayhawks have won 29 straight against Kansas State.
Highlights of the KU senior class of Michael Lee, Aaron Miles, Keith Langford and Wayne Simien: 108-25 (.812) record, two Final Fours, NCAA runner-up in 2003, two Big 12 Conference titles (2002, '03), ranked in the top 10 of the AP poll 51 times, including No. 1 seven times.
"Most seniors haven't accomplished what these kids have," KSU coach Jim Wooldridge said. "Not only their passion to play that game, but their fans -- seeing those guys play for the final time in Allen Fieldhouse will give them some more emotion as well -- if that's possible."
"Those three have put up great numbers and Mike Lee has been just as valuable as any of the others."
Summarizing the four, Self said: "Aaron is ornery, fun, tough. Even when he is not playing his best, gosh does he try hard. I'll remember Keith being clutch, cool, with a dynamic personality. Wayne is just balanced. I don't know if I've ever been around a kid as balanced as him. And Mike ... he has such a unique way of leading people and being positive."
Self is hoping for a big victory tonight and then ...
"I hope there's not a dry eye in the stands," he said.
¢ Tonight's festivities: The game is set for 8 p.m., not 7 p.m. as listed on original schedules. ... KU will provide 50th Anniversary/Senior Night T-shirts for every fan in attendance. Fans also will receive a replica 1955 game program and 50th anniversary key chain. ... KU's players and spirit squad will be outfitted in 1950s retro uniforms. A KU mascot from the '50s will join Big Jayhawk and Baby Jay. ... KU's four seniors and their family members will be introduced before the game in the annual flower shower.
¢ Jayhawks honored: Simien is one of 10 finalists for the 2005 Bayer Advantage Senior CLASS Award for the top senior player in the country. Other candidates include: Taylor Coppenrath (Vermont), Travis Diener (Marquette), Daniel Ewing (Duke), Joey Graham, John Lucas (Oklahoma State), Lawrence Roberts (Mississippi State), Chris Thomas (Notre Dame), Ronny Turiaf (Gonzaga), and Hakim Warrick (Syracuse). ... KU signee Julian Wright will play for the U.S. team in the Hoops Summit on April 9 in Memphis. The U.S. will play an under-20 world team.
More like this story on KUsports.com