Russell Robinson had a two-hour, heart-to-heart chat with his boss Wednesday night.
"It was a man-to-man talk, not really coach-to-player. It seemed more like man-to-man," Robinson stressed of his sit-down with Kansas University basketball coach Bill Self.
"I got a clear view of where he's coming from. It kind of helped me get back in the flow," added Robinson, KU's freshman point guard from New York.
The two didn't chat much about Robinson's declining an offer to play the final two minutes of Tuesday's rout of Baylor -- both insisted that was no big deal -- but more about what the 6-foot-1, 185-pounder needed to do to earn more playing time down the line.
"The biggest thing is turnovers," Robinson said of why he had played double-digit minutes in just one of KU's last six games. "As a team, we're struggling in that area."
Robinson has 19 assists and 27 turnovers. There are four players with more assists than turnovers -- Aaron Miles, Keith Langford, Jeff Hawkins and Nick Bahe.
Robinson has scored just nine points with three assists and eight turnovers in KU's last six games.
"It's been kind of damaging to my confidence," he said. "I am going out there and thinking too much. The season is going by so fast, it's kind of hard to keep up."
Especially when he admits he recently hit the "freshman wall."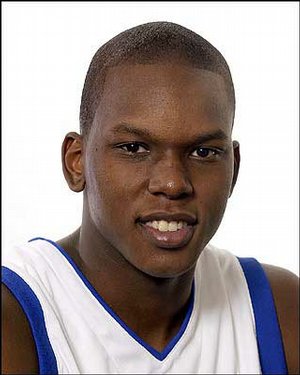 "You always hear about it, but never really think it'll happen to you," Robinson said of hitting the fabled imaginary wall. "I can't really remember when I hit it, but the stats show it. Now I have to revert back to the things I was doing that got me off to a good start, basically start over from scratch."
Robinson said he meant no harm in declining an opportunity to play mop-up minutes Tuesday. Self asked him if he wanted to enter and he simply stated he preferred to let his teammates finish.
"They work just as hard as me in practice, probably even harder," Robinson said. "It was their opportunity."
Robinson said he was surprised by the attention his not playing received.
"I didn't think it'd be that big a topic," he said. "I thought us winning by 20, there'd be a little bit more about that coming off a loss."
Robinson said his recent struggles haven't affected his feelings about KU.
"I'm definitely happy. I'm a little down now because I'm not playing that well, but I think everything will be pretty good after that," Robinson said.
He was pulled from the lineup after committing two turnovers in one minute against Villanova and didn't return until KU was down by 30 late in the second half.
"As freshmen, the rope isn't as long as some people. It's one of the things as player you go through. You've got to respond to it," Robinson said.
Nonetheless, Self is not down on the point guard, who has lost minutes to the emerging Jeff Hawkins.
"I don't think it was a bad thing that he did at all, and we talked about that," Self said of the BU game. "I think maybe there's probably a little bit of frustration -- he's human -- but it's not a belligerent frustration. If I was in his shoes, I could see where he's coming from.
"Russell and I talked at length," Self added, referring to the Wednesday meeting. "Here's a freshman who is playing seventh-most minutes on a team that's 15-1. A lot of freshmen out there aren't playing seventh-most minutes. He knew when he came here this would be the role. He's just going through a situation some days he's better than others. He's inconsistent like most freshmen."
Fourth-year junior Hawkins has been better of late, Self said.
"You've got a guy like Jeff who played well and in practice has visibly been one of our better performers and had some freshmen being in a slump or funk. You give a guy a chance to play and it becomes big news. This would never be big news anywhere else," Self said. "Russell is fine. He understands. He's the first to tell you, 'Hawk was on fire. Why'd he only play 13 minutes?'"
Self reiterated he was amazed at the attention playing-time issues receive in the press at KU.
"Just because you are not playing doesn't mean coach is mad at you. It's a thing that blows my mind," Self said. "The coach has the right to put in a game who he wants to. It's not personal. I'm fine with Russell. I just think Hawk's played great since Christmas."
Robinson has not been great of late, but that will change said Miles.
"I was frustrated my freshman year. He's maybe a little frustrated sometimes. I'll do whatever I can to help him get out of that frustration," Miles said.
Self said he has "for the most part been pretty pleased" with his entire freshman class.
"Everything is so magnified at Kansas. It's ridiculously magnified," Self said. "Every other place if a guy doesn't play it's because he's not practicing as well. It's because he's young and has to learn. Here it's 'What's wrong?' All our freshmen go through ups and downs and there's no doubt we expected them to go through ups and downs. In the big picture, they all will be really good players."
¢
Rotation talk: Self said he would try to slice his rotation to nine players soon.
"Maybe immediately," the coach said of Saturday's 8 p.m. clash against Texas. "We're probably better off playing nine guys, giving them the four to five minutes the 10th and 11th players are getting. It could be a different nine (every game)."
¢
Giles still out: Freshman C.J. Giles still is resting his bruised right foot and won't play Saturday. He also likely will miss Monday's game against Missouri with the possibility of returning Feb. 5 at Nebraska.
¢
Game Day: The fire marshal Thursday approved KU's plan for traffic flow around the ESPN College Game Day stage, which today will be set up between the two trophy cases in the east lobby of Allen Fieldhouse. The first Game Day show will start at 10 a.m. Saturday. Fifteen members from 40 of KU's student camping groups will watch that show.
"You can't buy that kind of exposure. A lot of people spend a lot of money on Super Bowl ads and things. Here we are basically getting 10 hours of maybe not nonstop coverage, but everything is coming from Allen Fieldhouse in Lawrence, Kansas. I think it's great exposure for the program and university," Self said.
Self jokingly said he might need to lock his players in a room that has PlayStation instead of television on Saturday so the players won't listen to what analysts Digger Phelps, Jay Bilas and others were saying.
ESPN2's Cold Pizza television show runs 7-9 a.m. today at the fieldhouse. KU students and fans are encouraged to attend. Doors open at Allen Fieldhouse at 6 a.m.
¢
Teeth woes continue: Sasha Kaun, whose mouth smashed into the top of J.R. Giddens' head Thursday at practice, had his temporary teeth dislodged and he needed some attention at the dentist Thursday night. He's OK, however, and has been cleared to play.
More like this story on KUsports.com