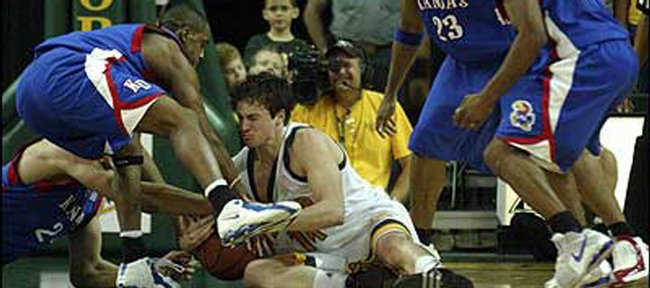 Waco, Texas — Jeff Hawkins showed up for Kansas University basketball practice Monday without his trademark braids.
"I just wanted to cut off my hair, get a fresh start, get a new start," said the junior guard, who explained that "a guy named Marty" did the clipping at a Lawrence barber shop.
"I had to do it before practice so I could show up and surprise my teammates."
The seldom-used player didn't necessarily surprise the guys who practice with and against him every day, but he certainly shocked 3,000 or so KU supporters in a crowd of 7,280 by scoring 15 points off 5-of-5 three-point shooting in the Jayhawks' 86-66 rout of Baylor on Tuesday at Ferrell Center.
Did the new 'do contribute to his explosion on a night the Jayhawks hit a school-record 16 threes in 27 tries?
"I don't know," Hawkins said with a grin. "I do know I need to start using my head more. I wasn't always using my head when I had braids. I'm always trying to do the right thing now, even if there are negatives around me, to always stay positive."
Hawkins hasn't had many positives in his KU basketball career. The 5-foot-11, 180-pounder, who was suspended for behavior issues the first day of the school year and not reinstated until the start of preseason conditioning drills in late September, has scored in double figures twice in his career.
He had a career-high 19 points off 5-of-7 three-point shooting in last year's win at TCU up the road in Fort Worth, Texas.
"It has to be the weather," Hawkins said of the warm Texas climate, which Tuesday produced temperatures in the 70s. "No, I was just focused and ready. It's what got into my shooting."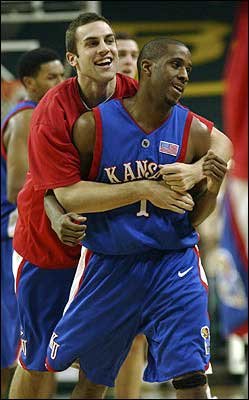 KU coach Bill Self has been so impressed with Hawkins, Self said Hawkins definitely had earned a spot in the rotation in the immediate future.
"It's been well documented with 'Hawk,' he's a great kid, but kind of got in the doghouse there a couple of months," Self said. "He's kept a great attitude. He's matured. It goes to show you, if you keep a good attitude all the time, when your number is called, you've got a much better chance to be ready. He was certainly ready tonight."
Hawkins and J.R. Giddens each hit three threes the first half as the Jayhawks (15-1 overall, 5-0 Big 12 Conference) built a 41-26 halftime lead and erased memories of Saturday's 21-point loss at Villanova.
Hawkins hit two more threes in a 25-12 outburst that upped a 51-43 second-half lead to 76-55.
"He deserves to play. He's played well," Self said of Hawkins. "We talk all the time ... we'll not play six perimeter players. He's certainly played like one of the five best in the last three weeks."
Hawkins, who some thought might pack up and quit the squad during his suspension, said the reality was he was going to keep working until Self called his number.
"From Day One, I came in and wanted to work hard and prepare myself," Hawkins said. "Even though I was not playing, I didn't give up. I knew coach would eventually put me in the game, and I'd be ready when he did.
"I was patient. I'm a big believer good things come to those who are patient. I knew in the back of coach's mind that even though he was mad at me, he still believed in me. If he didn't believe in me, he'd have kicked me off the team for good."
Hawkins' teammates were not shocked by his contribution Tuesday, when all the Jayhawks shredded the zone of Baylor (9-7, 1-4). The 16 threes snapped the old record of 15 set in a 96-91 victory over North Carolina State on Dec. 10, 1994, in Raleigh, N.C.
More like this story on KUsports.com