There was exciting basketball and a whole lot more in Allen Fieldhouse on that dedicatory night of March 1, 1955.
With underdog KU leading Kansas State, 44-33, after the first half in the sparkling, packed new arena, there was "The Story of Basketball," a 35-minute pageant honoring Phog Allen, the building's namesake.
It began on a jubilant note for the estimated 17,000-plus people jammed into the $21/2-million hall. It finished with "Auld Lang Syne" and the only tears Allen shed during the emotional occasion.
That happened when Chancellor Franklin D. Murphy paid special tribute to Allen's wife Bess.
Noted for his quotes, and a tendency to speak at length on even ordinary occasions, Allen, then 69 and near retirement, was uncharacteristically brief for this singular honor.
Murphy drew a rousing ovation when he declared: "For just about every special occasion at the university there has to be a queen, and tonight is no exception. Never has there been a more lovely and attractive regent to grace the campus than tonight's queen, Mrs. Forrest C. Allen."
That's the only time Allen was seen to lose his poise and brush away tears. Then, as he was introduced by the chancellor as "a man who not only has built great teams but sound men, as evidence by the former basketball players assembled on the court tonight."
More than 100 of Allen's former players were on hand, and so were many members of Allen's family.
Responding to the standing ovation, Allen quipped that since he had been "terribly sick" in bed in Boulder during the Feb. 22 game at Colorado, he seriously doubted he would be well enough to make the dedication scene.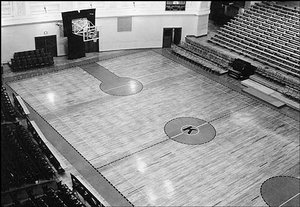 KU lost that game to CU, then fell to Oklahoma State on Feb. 27 in Stillwater. The Jayhawks had a 10-10 record going into the dedication contest.
"I began to think maybe this is it," Allen quipped. "Now the university can have the dedication of the fieldhouse without breaking the long-standing tradition of no living person have a major university building named after him."
The crowd roared again.
Naming the arena after Allen set a precedent for Kansas schools, which previously had named structures only for people who had died.
Allen stressed he first wanted to pay tribute to James Naismith for inventing the game of basketball and imparting so much knowledge and inspiration to him during their years together on Mount Oread.
Naismith was the original Kansas coach, although his primary interest was teaching.
"The game he invented has spread over the entire world and has made clean minds and healthier bodies," Allen said.
Finally, Allen said: "I humbly accept this fieldhouse as a tribute to all the players past, present and future at the university."
Again, the crowd roared, and continued to express hearty approval when Kansas City alumni leader Scott Ashton presented Allen with keys to a new Cadillac automobile "courtesy of his innumerable friends and admirers."
The historic halftime ceremony ended with the band playing "Auld Lang Syne" as Allen went to the dressing room to rejoin his team that was being coached, at his request, by assistant Dick Harp.
Allen explained he wanted the players to win for KU and for themselves, not for him.
Among the guests on hand were:
The Allens' sons -- attorney Milton Allen and Dr. Robert Allen -- and daughters -- Mrs. Jane Mons, Mrs. Mary Hamilton and Mrs. Eleanor Glenn.
Kansas Gov. Fred Hall.
Publisher Oscar Stauffer representing the Kansas Board of Regents.
Bob Kennedy, president of the All-Student Council.
KU athletic director A.C. "Dutch" Lonborg.
James McCain, president of Kansas State University.
Larry "Moon" Mullins, KSU athletic director.
Fred "Tex" Winter, KSU men's basketball coach.
E. C. Quigley, former KU athletic director.
Charles Marshall, fieldhouse architect.
Charles Bennett, general project contractor.
John Brown, building supervisor.
Chancellor Murphy was the first to address the audience, saying: "Tonight we have paid tribute to the game of basketball. Kansas University has been the pivotal point of the game for the entire world."
Then Gov. Hall officially presented the fieldhouse to KU.
Momentarily, Stauffer said: "By unanimous vote, the regents have named this fieldhouse in honor of a great Kansan, an outstanding coach and a fine gentleman. This building also stands as a deep manifestation of the interest in the youth of the university."
Chancellor Murphy then turned the fieldhouse over to student leader Bob Kennedy, who commented: "At last, all the students of the university can attend basketball games at one time if they wish."
Previously, KU had played its home games in Hoch Auditorium, an aging concert hall that could hold only about 3,800 people but was stretched to about 4,000 when the fire marshal wasn't looking.
Some of Allen's best teams, including the 1952 NCAA champions, never benefited from the size of audience or the scope of television which developed after the fieldhouse opened.
There was no TV coverage of note of the dedication game.
As the KU student body grew in the post-World War II period, students were able to get "odd and even" tickets for games in Hoch. They could see only half the home games unless they could make trades or mooch tickets from fellow students for games not on their agenda.
So well did the activities on the court grab the audience's attention that thousands of hot dogs prepared for sale in the concession stands languished as unsold "cold dogs" by game's end.
Kansas held on to defeat the favored Wildcats, 77-67, even though KSU narrowed the gap to three points on three occasions in the final 10 minutes.
"There was no way we were going to let K-State beat us on this night," said sophomore Gene Elstun, who led the Jayhawks with 21 points. "Imagine being remembered as the KU team that lost to K-State the night the fieldhouse was dedicated. We could never live with that."
There was substantial halftime emphasis on the many intended uses for Allen Fieldhouse -- for track, indoor baseball practice, commencement exercises, concerts and an armory.
Allen had campaigned for scare steel for the structure with many thinking he selfishly was pushing only for "a basketball palace."
Over the last half-century, the fieldhouse has been used in ways not even Allen ever envisioned.
As for "The Story of Basketball" pageant, it featured hundreds of actors in colorful, often humorous, outfits with a number of KU foreign students attired in their native dress to emphasize the international aspect of the game.
Top 10 individual basketball efforts in Allen Fieldhouse
1. Wilt Chamberlain scores 52 in his college debut Dec. 3, 1956
2. Bud Stallworth's 50-point game against rival Missouri on Feb. 26, 1972
3. Nick Collison has 24 points and 23 rebounds against Texas on Jan. 27, 2003
4. Randy Rutherford, of Oklahoma State, drops 45 on the Jayhawks on March 5, 1995
5. Terry Brown drains 11 threes vs North Carolina State on Jan. 5, 1991
6. K-State's Mike Wroblewski scores 46, most by a KU foe in the fieldhouse, in 1962
7. Aaron Miles records 9 steals against Iowa State on Feb. 16, 2003
8. Greg Ostertag blocks eight shots vs Florida on Dec. 7, 1994
9. Lynette Woodard scores 44 against Iowa on Feb. 10, 1979 -- the most points ever scored by a female in Allen Fieldhouse
10. Bill Bridges becomes someone not named Wilt to grab 30 boards against Northwestern in 1960
-- Kevin Romary, Sunflower Broadband
More like this story on KUsports.com