Kansas University basketball coach Bill Self used the words pitiful, miserable, terrible, poor and out of synch to describe the Jayhawks' offense Saturday afternoon at Allen Fieldhouse.
His description might have seemed rather kind to the 16,300 fans who left KU's 50-year-old building dazed and confused. Some even booed during a 63-61 overtime loss to Iowa State.
The setback, which snapped KU's 32-game conference homecourt winning streak and 20-game overall homecourt win streak, was assured after Curtis Stinson's floater in the lane dropped with 5.3 seconds left in OT, and Keith Langford's leaning 17-footer misfired at the buzzer.
But it mainly was made possible by the Jayhawks' inability to feed All-America power forward Wayne Simien, who attempted just seven shots in 41 minutes.
It marked Simien's fewest attempts since six in 21 minutes in a rout of Louisiana-Lafayette on Dec. 11 and fewest in a conference game since his sophomore season when he had four in 18 minutes versus ISU in his first game back from a shoulder injury.
"I don't know if frustrated is the word," Simien said after hitting four of seven shots and all nine free throws.
He did not score a basket the final 15 minutes of regulation and five minutes of overtime. At one point late in the first half, he bellowed, "Feed me, feed me," to teammates after cashing an inside hoop and getting fouled.
"I know Aaron (Miles), Keith want to get it inside. They don't have anything against me. I wanted the ball. I felt I could get in rhythm. It didn't happen," Simien said. "When you are not throwing the ball inside to one of your best players, it's tough. Settling for a lot of jump shots was pretty damaging."
The Jayhawks (20-3 overall, 10-2 Big 12 Conference), who after their second straight overtime loss fell into a first-place tie with Oklahoma State in the league standings, fired up 23 three-pointers, hitting four.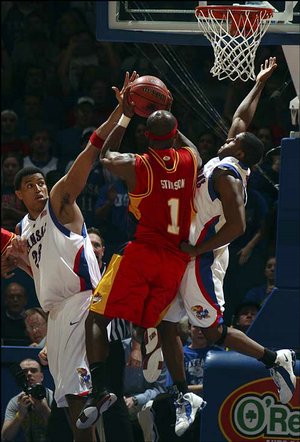 That included two in three tries by backup point guard Jeff Hawkins. His second three gave KU a short-lived lead in overtime. His first, with :42 left in regulation, cut a five-point deficit to 54-52.
"It's not like we don't want to pass the ball inside. It's key," Langford said.
Langford's driving basket with 4.8 seconds left helped KU battle all the way back from a nine-point deficit -- 53-44 at 2:27 -- and tie the score at 56. ISU's Will Blalock then missed a desperation heave at the buzzer, and the game went into OT.
"They sped us up with pressure," Langford said. "They were taking time off the clock in the backcourt; now we had 25 seconds, as opposed to 35."
Miles, who had 10 assists and five turnovers while missing five of six shots (all threes), was dismayed by the team's turnovers.
He and Langford had five apiece, while J.R. Giddens, who missed 10 of 11 threes and 13 of 16 shots total, suffered three and heard some jeers from the stands for his efforts.
"We had 18 turnovers. If you win with 18 turnovers, that's a fluke," Miles said, adding, "Wayne had only seven shots. Wayne is a great scorer. Not getting the ball to him is my fault."
Self also shouldered the blame for Simien's lack of offensive output against ISU's matchup zone.
"It's very frustrating when your best player isn't given the opportunity to produce like a best player needs to," Self said. "We certainly have to look at what we're doing and take responsibility for that. That's inexcusable in my eyes.
"Our best offense was the out-of-bounds, play and that's pretty sad. They did a good job keeping the ball from Wayne, but we did a miserable job getting him the ball."
It wasn't, Self stressed, that Simien was blanketed.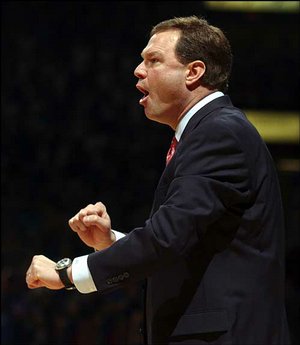 "I thought he was open many times, and we didn't throw it to him. It's what happens many times when you lose your confidence and are scared to make a mistake because of the way we passed it, handled it and shot it early in the game," Self said.
"It got us out of kilter enough that we totally stopped looking at him. That's very, very frustrating."
After Jared Homan fouled out with 3:22 left in overtime and KU leading, 61-60, ISU had its undersized lineup in the game.
"They had a small team in there the last six or seven minutes, and he (Simien) touched it twice," Self lamented. "It was the whole deal, spread it and throw the ball to Wayne. We just didn't get it done."
That was partly because of Iowa State's confusing matchup zone and bothersome press.
"Their press was effective," Self said, "because we allowed it to be effective. We act like we've never been pressed before. Every time we got trapped, we panicked. We certainly made it look better than it was."
Still, Self credited the Cyclones (15-8, 7-5), who have won seven in a row in league play.
ISU's Curtis Stinson erupted for 29 points, including the game-winning shot in the lane over Langford with 5.3 seconds left.
"He is great. We had no answer for him," Self said.
29Points by ISU's Curtis Stinson, on 10-for-23 field-goal shooting17.4KU's three-point field-goal percentage (4-for-23)4:38Time left in the 5-minute overtime that KU scored its final basket1-6, 1-5KU's field-goal, three-point field-goal shooting in the overtime
Kansas then had to go the length of the court for its final shot.
"I felt we should have attacked the basket," Self said. "It worked out perfect. We got the ball to Keith. He had plenty of time and a head of steam. We ended up taking a hard shot. It would have been great had it went in. It was on line. I won't fault him on a last-second shot. He's made plenty of them."
KU now heads to Oklahoma for an 8 p.m. tipoff Monday needing a win to avoid a three-game losing streak.
"This was as disappointing of a performance as we've had since we've been here," Self said of his two-years at KU. "It certainly could be very costly if we don't right this ship quickly."
The ship will sail again, the players say.
"All in all, it was one of those days. We messed up. It's done," Langford said. "Everybody can complain, talk how bad Kansas is, write little comments on the Internet, but we're going to stick together. We know from experience it's not the end of the season."