Former Kansas University football standout Dana Stubblefield never has made it back to Lawrence with time to kill.
Usually, his trips came while his NFL team was playing in nearby Kansas City, Mo., and his professional commitments let him visit Lawrence only briefly.
So this was a special weekend for Stubblefield, the 1992 Aloha Bowl MVP who has gone on to a successful 11-year NFL career with San Francisco, Washington and Oakland.
"I've been back a couple of times, but I'm not able to stay long," Stubblefield said. "Depending on what team I was on, whenever we played the Chiefs, I'd get back here. It's great to see what's going on with the program and to see what coach (Mark) Mangino is doing with it."
When he wasn't signing autographs and visiting with old friends, Stubblefield served as one of the honorary team captains during the alumni game Saturday, along with former teammate and current New England Patriots linebacker Don Davis. The two were honored at halftime by Mangino and KU Chancellor Robert Hemenway.
They also were asked to speak to the current Jayhawks before the game.
"We're excited to have them back, and our kids enjoyed listening to them," Mangino said. "The door's always open for them and all of our former players."
¢
Trying to kill him?: KU fans better hope they never see Kyle Tucker punt that much again.
Serving as punter for both the Blue and White teams, Tucker unleashed 14 punts Saturday and kicked two field goals to boot.
"It was starting to hurt after the first quarter," Tucker said. "I think I had, like, 10 punts, and I was hurting."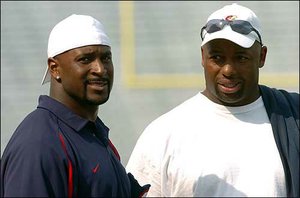 Tucker averaged 44.1 yards per punt, landing four inside the 20-yard line. His longest moonshot went 62 yards.
¢
Injuries: The only significant injury in Saturday's spring game was to running back Clark Green, who went down because of an undisclosed nick on the first drive and didn't return. He finished with two carries for eight yards.
Of the projected 2005 starters, only guard David Ochoa was held out of action Saturday. Mangino said his injury was not surgical and wasn't considered serious.
¢
Meier, too?: With all the fuss between who will win the starting quarterback job between Adam Barmann and Jason Swanson, Mangino was asked Saturday about another guy who could be in the mix: Kerry Meier, the touted Pittsburg High senior who signed with Kansas in February and will show up on campus this summer.
Mangino hasn't said whether Meier would take a red-shirt season, leaving the door open for him to come in and have a chance right away.
"I told him to show up and be ready to compete," Mangino said. "You know our philosophy here: True freshman or fifth-year senior, if you're the best player, you go on the field."
¢
Captains: At halftime, the Jayhawks announced their team captains for 2005. KU will have five -- seniors Nick Reid, Banks Floodman and Kevin Kane and juniors Charles Gordon and David Ochoa.
This, that: Windsor, Ontario, freshman Tang Bacheyie, who joined the team in January as a safety, now is listed as a running back and had three carries Saturday. ... Kick-return specialist Greg Heaggans, who Mangino said was being held out of spring ball, was not listed on the latest roster, the first time he has been omitted. Mangino stopped short of saying he was no longer on the team, but said his return wasn't likely ... Of the six interceptions Saturday, four were returned more than 20 yards.
More like this story on KUsports.com