For Kansas University football fans, Saturday's spring game at Memorial Stadium was a quick fix for football junkies in withdrawal, an opportunity for armchair quarterbacks to assess next year's team or a chance for families to enjoy laid-back football in nice weather with their children.
By nearly all accounts, fans were satisfied with what they saw on the field, creating a buzz of excitement surrounding KU football that was undetectable in previous years.
Chris Zweiner, a regular attendee of the spring game from Grain Valley, Mo., was impressed to see an estimated 3,000 fans in attendance.
"Just from coming to spring games in years past, I haven't seen this many people coming to it," Zweiner said.
Heading into the game, some fans said they expected to see an improved defense -- better, even, than last year's D, which ranked fourth overall in the Big 12 Conference.
"I just hope I see defense right where they left off from last year, even though we lost a couple of good guys," Rodger Schlotzhauer, Kansas City, Mo., said.
Good defense is generally what the fans saw.
The offenses for the Blue and White teams traded possessions most of the first quarter.
A pair of booming punts from Kyle Tucker was the most the ball moved early on.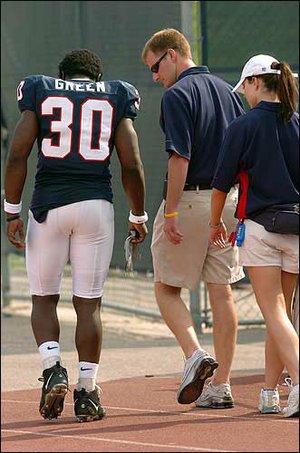 "That's the most exciting thing so far is the punting," John Payne, Chicago, said after the first quarter.
Fans nearly were unanimous in approval of the defense.
"I'm pretty impressed. It looks like the defense is going to be good," Topekan Howell Johnson said.
But several questions about the offense went unanswered, especially the starting-quarterback battle between Jason Swanson and Adam Barmann.
"I'm trying to decide, Swanson or Barmann as their quarterback, and I don't think that clarified anything in my opinion," Payne said. "They looked rusty to me."
If Larry Burke, who made the pilgrimage from Dodge City, were allowed to choose, his vote would go to Swanson.
"I personally like the way Swanson looks," Burke said. "I think Swanson is more athletic, quicker. I like the way he throws the ball.
"I like Swanson as the starter, but I don't know if it's going to happen. But I have faith in the coaching staff."
But Burke, who was seated next to Johnson, had doubts about the offensive line's support.
"The offensive line is starting to come together a little bit more in the second quarter," Burke said. "In the first quarter, I didn't think the first-team offensive line looked very good, did you?"
"No," Johnson replied.
Johnson also was unimpressed with the running backs.
"I'm kind of concerned about the running backs. There's Green right there," Johnson said, pointing to a limping Clark Green. "I'm still crying about the loss of (John) Randle. I wish he would show back up again. I'd love to watch him run."
But the game wasn't just for sideline analysts. Hundreds of children also soaked up sunlight.
David Johnston, Lawrence, came with his wife, Sara, and their two children, Sydney, 2, and 8-month-old Sophia.
David Johnston said his children had yet to miss a football game, and the spring game wouldn't be the first.
"Heck, our girls have never seen a KU team lose to K-State in football," he said.
Jim Phelps, father of linebacker Tom Phelps, said the team believed KU could claim several victims next season if all goes well.
"Oh, they're real confident," Phelps said. "I know they're expecting nine wins."
More like this story on KUsports.com