Sure, Don Fambrough missed an extra point Saturday during the Kansas University football alumni game.
He had a pretty good excuse for the miscue.
"To tell you the truth, I partied too much last night," quipped Fambrough, a player in 1946 and 1947 and who twice served as KU's head coach. "I saw three footballs out there, and I had to guess which one to kick."
His concentration may have been lacking, but the legendary Jayhawk made up for it on his next try, scooting in uncontested for a two-point conversion that propelled his Blue squad to a 21-15 victory over the White.
Never mind that there were no white jerseys out there during the trick play. For "Fams," the rules can get bent a little.
Fambrough's vindication was just one of a number of entertaining moments during the alumni game, in which about 70 ex-Jayhawks -- who played from the '40s clear up until 2001 -- suited up and played seven-on-seven, two-hand-touch football.
The scoring started in electric fashion, when blue-teamer Jeff Snyder intercepted a pass in the White's end zone, ran 10 yards and flipped it back to Thad Rawls. Rawls ran 75 agonizing yards downfield before chucking it back to John Flynn, who finished off the 101-yard return.
"I got it, and I was thinking, 'I sure as hell don't want to run down to the end of the field,' so I lateraled it to someone else," Snyder said with a laugh. "I figured I could either run or let someone else do it, so I gave it up."
Rawls survived the sprint, and the blue team took a 7-0 lead after Fambrough's successful point-after kick. From then on, it was a back-and-forth battle -- but having fun remained the theme, and the former players did just that.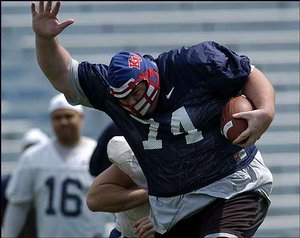 "It's awesome," said Keith Loneker, who played from 1989 to 1992. "We get to see each other once, maybe twice a year. When you play on a team like this, you're like family. We're like brothers."
Loneker may have been the class clown Saturday, playing a receiver-eligible center and wearing a stocking hat that resembled a KU football helmet. He was the only one equipped with noggin protection, even though it was made of wool.
"If you're going to play football, you've got to bring your bucket," Loneker said. "It worked well. I told the guys I got better with age. I never had a game where I had six receptions before."
Except for the 101-yard interception return, all of the touchdowns were scored through the air, with Steve Smith, Asheiki Preston, Bobby Douglass and Fred Thomas all throwing TD passes.
Snyder, who played from 1999 to 2001, logged another interception and had a 12-yard touchdown pass before the day was done, making him unofficial MVP of the game.
"I grew up watching most of these guys play," Snyder said. "This is my first time playing in the alumni game. Seeing some of the greats that I used to watch and wanted to be like is a pretty good experience. I'm glad coach (Mark) Mangino and coach (Clint) Bowen put this on so I could come back."
More like this story on KUsports.com