EVANSTON, ILL. — Sometimes a hump isn't much higher than an anthill. Other times a hump can be as towering as the Himalayas.
For Kansas University's football team, winning on the road is a hump of Mount Vesuvius proportions. The Jayhawks have dropped 31 of their last 36 outside of Lawrence -- including Saturday's 20-17 seesaw loss to Northwestern.
On the bright side, the Jayhawks' performance was their best against a BCS foe on the road since they spilled Texas Tech in overtime in 2001 in Lubbock, Texas.
On the negative side, when is the last time Kansas lost on the road because it couldn't stand prosperity?
It was KU's defense that snatched defeat from the jaws of victory when it surrendered what proved to be the winning touchdown just 80 seconds after the Jayhawks' stirring comeback from a 13-3 deficit to snatch a 17-13 lead with 6:45 remaining.
The defense, impressive most of day, went to sleep at the switch and ruined what appeared to be a watershed game -- the elusive road victory that would put the Jayhawks over the road hump.
"They weren't mature enough to understand," KU coach Mark Mangino said of the defense, "they had to go and play and get three and out. They didn't understand that."
Mangino used the words "mature" and "maturity" a lot in his mostly upbeat postgame media session. But he never mentioned that the Jayhawks lacked the maturity to win on the road. Not that he ever would. Mangino downplays the home-road factor.
"Coach tells us it doesn't matter where the game is played, that the field is 100 yards long," KU linebacker Gabriel Toomey said.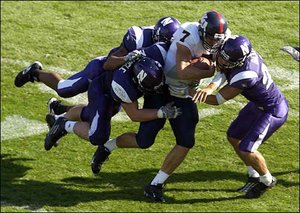 As a matter of fact, it's not like the Jayhawks were in a snake pit Saturday. The attendance was under 25,000, and I'll bet upwards of 3,000 -- perhaps more -- were Kansas fans. I saw a whole lot of people wearing KU apparel inside and outside Ryan Field.
This was a game Kansas should have and could have won even though the Jayhawks could not run the ball and could not kick a long field goal.
The lack of a rushing attack -- a paltry 47 yards -- can be blamed on the offensive line. Center Joe Vaughn and guard Bob Whittaker, both returning starters, played just about every offensive snap, but Mangino used everybody he had at the other three spots.
What can you say about the shabby field-goal kicking? Poor Johnny Beck has been a model of inconsistency since an impressive freshman year. Beck, now a senior, was consistent Saturday only in that he was wide right on a 48-yarder late in the first half and wide right on a 43-yarder that would have forged a tie and likely have sent the game into overtime.
Mangino has two place-kickers on scholarship -- Beck and red-shirt freshman Scott Webb. Webb kicks the short field goals -- he had a 27-yarder against the Wildcats -- and Beck the long ones. Why not let Webb kick the long ones, too? If the reason is that Webb doesn't have enough leg to kick long field goals, then why is he on scholarship?
Mangino also has two punters -- senior Chris Tyrrell and true freshman Kyle Tucker. When Tyrrell fumbled a punt snap that led to a Northwestern field goal, Mangino replaced him with Tucker, who booted a 46-yarder in his first collegiate attempt.
Anyway, now that the nonconference portion of the schedule is over and Kansas faces the daunting task of winning half of its eight league games in order to become bowl-eligible, Mangino has to quit waffling about his kickers. He needs to pick a punter and choose a place-kicker, go with them and junk the platoon system.
In spite of a pedestrian running game and a defense that snoozed at a critical time, Kansas still was in a position to tie and perhaps to win in OT if the Jayhawks only had a dependable field-goal kicker.
Don't put this one all on Beck's back, though. You win as a team and lose as a team, and there was plenty of blame to go around.
More like this story on KUsports.com