EVANSTON, ILL. — Going from a 10-point advantage to a four-point deficit in less than six minutes could demoralize a winless team early in the season.
Not Northwestern against Kansas University on Saturday, though. The Wildcats lost a 13-3 lead on two fourth-quarter touchdown passes from Adam Barmann to Brandon Rideau, but regained the upper hand with a 12-yard pass from Brett Basanez to Brandon Horn on their next possession. Northwestern then held on for a 20-17 victory at Ryan Field, their first win of the season.
"There are programs with lesser character that might have started on a downhill slide after beginning 0-2," Northwestern coach Randy Walker said. "Even in this game, when it went against us for a while, it would have been easy to throw it in, but we kept fighting. I'm awful proud of their response to the adversity of starting out 0-2 and battling through a tough game."
The game-winning drive was barely a battle for Northwestern (1-2). Basanez lead the Wildcats 81 yards in less than a minute and a half to put his team back on top. The junior quarterback accounted for all but 13 yards of the drive with either his arm or legs, though he had help from fellow junior Mark Philmore on the drive's first play.
Philmore caught a screen pass in the middle of the field, cut to the right sideline and raced downfield, breaking two tackles before going out of bounds at the KU 29-yard line. The 52-yard play gave momentum back to Northwestern, which needed just three more plays to regain the lead.
"I just caught the ball and was telling myself to get upfield," Philmore said. "I was thinking about a play that happened last week against Arizona State where a couple of guys said if I had kept going across the field that there was a lot of open space. That was in the back of my head, and I just took what they gave to me."
Basanez scored Northwestern's first touchdown with a two-yard scramble in the third quarter that gave the Wildcats a 10-3 lead. He finished the game 20-of-33 passing for 192 yards and a touchdown and rushed for 27 yards on eight carries.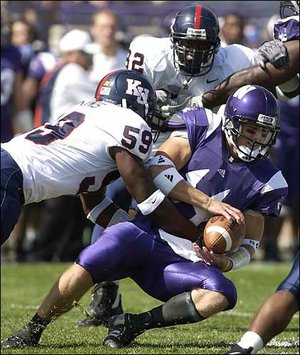 "Brett Basanez found ways to win, and that's what good quarterbacks do," Walker said. "That run for a touchdown was spectacular."
Basanez had to find ways to win in the second half after Northwestern's offense struggled in the first half.
The Wildcats gained just 139 yards on 35 first-half plays, with just 22 of those yards coming on the ground. Northwestern didn't do much better in the second half, gaining just 198 yards, but put together two sustained drives that resulted in touchdowns, which was enough to hold off the Jayhawks.
"You play passionately, you play hard, you fly around, you find a way to win," Walker said. "Our kids found a way to win today, and I'm really proud of them."
More like this story on KUsports.com