EVANSTON, ILL. — Johnny Beck wasn't solely to blame for Kansas University's most recent road football loss.
Beck, who missed two field-goal attempts -- including one in the final minutes -- of KU's 20-17 loss to Northwestern Saturday at Ryan Field, had plenty of accomplices.
"You can't put it all on the field goal," said KU safety Tony Stubbs, who made seven tackles in the loss. "It was all around today."
A week after almost everything went right for Kansas in a 63-14 home victory over Toledo, so many things went wrong in the Jayhawks' first road game:
KU punter Chris Tyrrell bobbled a snap and fumbled, setting up a Northwestern field goal.
Kansas was whistled for 11 penalties for 84 yards. Four of the Wildcats' 20 first downs came courtesy of Jayhawk infractions.
"We want to be aggressive, but we've got to be smart," said KU coach Mark Mangino, whose team was flagged 12 times for 87 yards two weeks ago in the season opener against Tulsa. "That was too many penalties -- way, way too many."
The Jayhawks (2-1) mustered only 47 yards rushing and 350 total yards against a Northwestern defense that had allowed averages of 148 yards rushing and 478 total yards in its first two games -- both losses. Junior Clark Green led the Jayhawks with 25 yards rushing.
KU's defense, which allowed only 245 total yards through 3 1/2 quarters, collapsed when it mattered most. After Brandon Rideau's second touchdown catch of the fourth quarter gave KU a 17-13 lead with 6:45 remaining, Northwestern (1-2) needed only four plays and 80 seconds to reclaim the lead.
"I'm not going to be critical of the defense," Mangino said. "They played well all night except that drive."
On first down, Northwestern quarterback Brett Basanez tossed a screen pass to receiver Mark Philmore, who broke at least two tackles while cutting across the field on a 52-yard gain to the KU 29.
Three plays later, Basanez's 12-yard pass to Brandon Horn gave the Wildcats a 20-17 lead with 5:25 remaining.
Kansas countered with an eight-play drive to the Northwestern 26, but Beck was wide right for the second time less than a minute and a half left.
A victory would have put KU at 3-0 for the first time since 1997. The Jayhawks would have been halfway to the six victories required for bowl eligibility, and Kansas would have entered Big 12 Conference play Saturday against Texas Tech atop the North Division standings.
"We'll learn some lessons today," said Mangino, whose team faces Texas Tech, Nebraska and Kansas State in the next three weeks. "We'll be a better team because of today. Our kids played hard and fought their tails off. They just didn't make enough plays at the end to win it."
Neither team could make plays in the first half.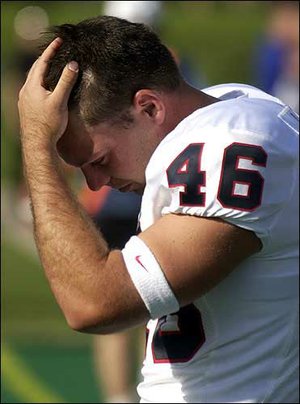 Northwestern's Brian Huffman made one field-goal attempt from 23 yards out and missed another from 48, while KU's Scott Webb hit a 27-yarder and Beck missed a 48-yarder 13 seconds before halftime.
Beck was not available to the media after the game.
After completing 15 of 24 passes in the first half, Northwestern pounded the ball at KU in the third quarter. The Wildcats ran 10 straight running plays -- most up the middle -- on a 71-yard scoring drive capped by a two-yard touchdown run by Basanez.
"I knew coming into the game that we were playing a good defense," Northwestern coach Randy Walker said. "Kansas shut down Tulsa completely. They had been giving up an average of 47 yards rushing per game. I thought we played well. I thought we played efficiently. Brett Basanez found ways to win, and that's what good quarterbacks do. That run for a touchdown was spectacular."
Northwestern finished with 337 total yards, including 192 passing by Basanez. Kansas quarterback Adam Barmann finished 30-of-48 for 294 yards with two TDs.
After Northwestern made it 13-3 on a 21-yard field goal by Huffman, Barmann guided Kansas on a 12-play, 75-yard drive that spanned the end of the third quarter and the start of the fourth. Rideau caught a seven-yard TD pass that pulled Kansas within 13-10 with 11:56 to play.
After KU's defense forced a punt, Barmann and Rideau hooked up again with 2:34 remaining on a 20-yard scoring strike.
"We pinned our ears back and started playing," Barmann said. "It was about time. We were stagnant the first three quarters. We did get something started in the fourth quarter, but it was too late."
KU's defense was still celebrating Rideau's second TD when the Wildcats took off in the other direction.
Philmore made a few Jayhawks, including linebacker Gabriel Toomey, miss during his critical scamper.
"That last drive, I wish we could take it back," said Toomey, who had six tackles.
Running back Noah Herron, whose 89 rushing yards led all players, picked up 13 yards on the next play. Basanez finished KU off two plays later.
"We just had to stop them, and we didn't do it," said linebacker Nick Reid, who led Kansas with 11 tackles. "There's no excuses. They just outplayed us."
The loss was KU's 31st in 36 road games since 1997. The Jayhawks still face road tests at Nebraska, Oklahoma, Iowa State and Missouri.
"We have to bring together two halves on offense and defense," said Rideau, who caught seven passes for 84 yards. "We have to come out expecting to win and play to win."
The Jayhawks play host to Texas Tech at 2:30 p.m. Saturday at Memorial Stadium.
More like this story on KUsports.com