Kansas University running back John Randle might have left 41,250 fans in amazement Saturday night with his running abilities during the Jayhawks' 63-14 tail-whipping of Toledo.
But the one fan the 19-year-old sophomore couldn't sway with his talent was the one person Randle cared about the most at Memorial Stadium.
"What do you think of your daddy out there tonight," a reporter asked Randle's nearly 2-year-old daughter, Laniah.
Randle's kid shook her head disapprovingly in response.
"You're going to do me like that," Randle teased back.
She was the only one who could Saturday.
"John's a great back," KU sophomore quarterback Adam Barmann said of the 6-foot, 185-pound Randle. "He is real shifty and can make plays."
He made plays to the tune of career highs in carries (19), rushing yards (104), rushing touchdowns (2), receiving yards (79) and total touchdowns (3) in his first start.
"Oh my God," said a stunned Randle, placing his face in hand after learning of his 183 all-purpose yards.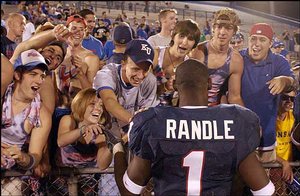 "I was blessed tonight," continued Randle, who scored two rushing touchdowns, each from two yards out. "We were really explosive tonight, and it was a lot of fun."
It sure looked like it, especially when Randle showed some of his signature shifty moves on a 55-yard touchdown reception from Barmann that put Kansas up 28-0 with 12 seconds left in the first quarter.
Randle received the ball on a swing pass out of the backfield, scampered down the right sideline, cut back, received a monster clear-out block from cornerback/wide receiver Charles Gordon and plunged into the end zone headfirst from the five-yard line.
"It's exciting to watch him," said Gordon, quite the playmaker himself. "On one play, I watched him juke this guy, and it was just awesome."
That's a feeling KU coach Mark Mangino said he'd had about the former Wichita Southeast standout since he was arrested three times last school year.
"John was never in my doghouse," Mangino said. "I said it before and I'll say it again, he's a good young man who made some foolish decisions. That's behind him, and I have confidence in him that he'll continue to do the right things.
"I wasn't happy with him, and we had some heart-to-heart talks, but I've always had faith in him as a person and as a player."
Randle's biggest fan, dad Larry, said the rest of the world was starting to see.
"Even when he was a little kid, he looked awesome, he looked like a player," said Larry Randle.
"But tonight I think you saw his breakout game," Larry said with a big smile.
More like this story on KUsports.com