KU vs. Burnaby Mountain All-Stars
Burnaby, British Columbia — A trip to Canada reaffirmed what college basketball fans already knew about Kansas University's Wayne Simien -- he's one of the top players in the United States -- make that all of North America.
"Wayne shot unbelievable this trip," KU coach Bill Self said Monday after watching Simien score 25 points off 12-of-15 shooting in the Jayhawks' 98-76 exhibition victory over Simon Fraser's Burnaby Mountain All-Stars.
"He showed his range. He looks like he is in midseason form right now. He probably is the only one on our team that does look that way," Self added.
Simien -- who played in three of four blowout victories on the trip, sitting out one game with the rest of the seniors -- cashed 27 of 37 shots, including two of four three-pointers. He made all nine of his free-throw attempts.
"I feel good," Simien shrugged. "I put in a lot of work this summer, a lot of shots, and I think it shows."
Everybody knows Simien will man the middle and attempt to garner All-America honors for the Jayhawks this season.
What nobody knows is who will play next to Simien as the big man in KU's starting lineup. Each of the three freshmen candidates -- C.J. Giles, Darnell Jackson and Sasha Kaun -- had positive moments in the Canada exhibitions.
"I really like C.J. right now," Simien said, asked who he had been most comfortable with next to him on the court. "He goes hard, changes a lot of shots inside. I think at this time he has the best feel out of the three. That's not to say the other two guys aren't going to come along."
Giles scored six points with three rebounds and a block against Simon Fraser. For the trip, he hit 10 of 16 shots and grabbed 17 rebounds in four games. Kaun, who didn't score in Monday's game, hit 10 of 20 shots overall and added 18 rebounds.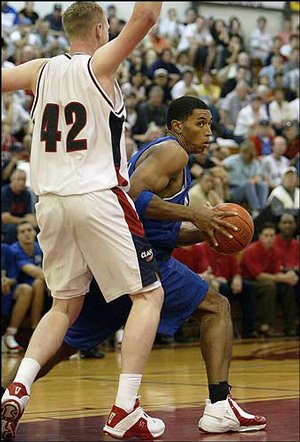 Jackson had six points Monday, finishing the weekend with 29 points and 15 rebounds.
"Darnell and C.J. probably, in my opinion, played the best," Self said. "I think with C.J. and Darnell they are different. One (Jackson) is a banger and the other is a shot blocker. Sasha ... the game is a little too fast for him right now. He's going to be great. Of Darnell and C.J., I think Darnell has the most feel and C.J. the most God-given talent."
Jackson played well in Canada despite an injured right ankle. He sprained it during one of KU's first pre-Canada tour practice sessions. He's ticketed for arthroscopic surgery today that will keep him off the court for between 10 days and two weeks.
"He can play with it," Self said. "We figure if it's bothering him, get it taken care of now. Darnell sprained his ankle in high school a lot. He'll get it evaluated, they'll likely clean it up."
Jackson played 18 minutes in Sunday's victory, KU's closest game during its four-game set this weekend. Michael Lee scored 17 points thanks to 3-of-4 three-point shooting. Also, Alex Galindo hit six of eight shots for 15 tallies.
"I tried to relax the second half," said shooting guard Lee, who scored seven points the first half as KU led, 47-35, after 20 minutes.
"Coach said I was trying too hard today. I tried to relax and let the game come to me. When I shoot, I am shooting to make them."
Lee, a senior and one of the team leaders, was asked which young big man played the best on the trip.
"C.J.," Lee said of Giles. "I think he did a lot of good things. All of them did a lot of good things, but I think C.J. was more consistent from day one to this day."
Self said all the big men appear to have enough talent to contribute during their first year in college.
"The good thing about having three big freshmen," he said, "is if one doesn't play well, it doesn't kill you. What we'll probably do is play by committee in the 5-hole. I think it'll be a different guy each and every game."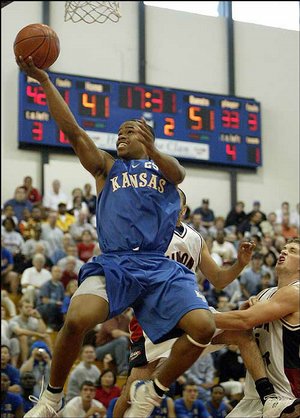 In Monday's game, KU was burned by guard Brent Charleton, who scored 24 points off 5-of-8 three-point shooting. Former Canadian national team big man Pete Guarasci contributed 12 points on 4-of-7 shooting.
It was a rugged game, and the teams combined for 43 fouls. KU hit 10 of 19 free throws; SFU made 22 of 27.
"It was a little physical out there, it's just part of the game," Lee said of a game in which KU coach Self and SFU coach Scott Clark had a heated exchange on the sideline after Charleton ran into KU freshmen Russell Robinson and Galindo on successive possessions.
"That was good competition," Simien noted. "All the teams we faced came out and played hard."
The Jayhawks wound up winning in runaways, not only against Simon Fraser, but British Columbia (82-51), Fraser Valley (106-71) and Langara (101-46).
"We shot the ball great for the trip," Self said of the Jayhawks. "We defended pitifully. We'll get better at that. We've not talked a lot about that. The freshmen got a lot of minutes. The people were nice to us here. Our fans proved again they are the best, turning out from all over the country in great numbers. The 10 practices were great. It was a positive experience for us."
The Jayhawks hurried out of Burnaby after the game to catch an afternoon flight back to Denver and on to Kansas City. KU's next action will be at Late Night in the Phog on Oct. 15.
More like this story on KUsports.com