Kansas University soccer coach Mark Francis was dismayed by the play of his field players in the Jayhawks' first game Friday in the KUStore.com Tournament.
They made Francis proud in the second game Sunday.
Sophomore midfielder Nicole Cauzillo scored KU's first goal in the 34th minute, and senior forward Rachel Gilfillan added an insurance goal midway through the second half as the Jayhawks beat Saint Louis University, 2-0, in the championship game.
The 17th-ranked Jayhawks moved to 4-0 for the first time in the program's 10-year history.
"I think they were pretty determined to come out today and turn it around," Francis said. "I think there's some things we've still got to work on, but obviously it's the fourth game of the season. We've still got a long way to go, but compared to how we played Friday I think it was a huge improvement today."
Francis credited senior goalkeeper Meghan Miller with the win Friday and lamented lackadaisical effort by most of his field players.
Sunday afternoon, Miller had plenty of help from her teammates -- and a little assistance from the goalposts, which deflected three Billiken shots.
The victory was Miller's fourth straight shutout. The mark ties a KU record, which the Seattle native set in 2001.
Her consecutive-minutes scoreless streak, however, is a school record. Dating back to the Jayhawks' 1-0 loss to UCLA in the Sweet 16, Miller hasn't allowed a goal in 407 minutes, 27 seconds.
"She's just in the zone," Cauzillo said of Miller. "She's just knows where the ball's going to be, and she's just playing great. She's off the line, she's everywhere. It's not like I'm even worried they're going to score ever because Meghan's going to pick it up."
The Billikens (1-2-1) came close to snapping Miller's perfect stretch, however. They fired 11 shots, including three that clanked off the goalposts. Still, none slipped past the All-Big 12 Conference keeper.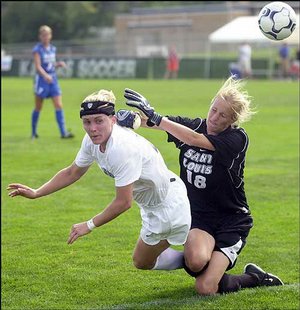 "My friends were the posts today," Miller joked. "Today we got the lucky bounces. Another game we might not get those and we lose, 3-2, so today was a good day."
While Miller has found her comfort zone, Cauzillo clearly also is in a groove. The Northville, Mich., native and West Virginia transfer scored her second game-winner in two games, was selected the tournament's offensive MVP and is KU's points leader with five this season.
Her goal Sunday -- a 20-yard strike to the far post off an assist from senior Lauren Williams -- gave Kansas a 1-0 advantage in what had been a tug-of-war first half.
St. Louis created a handful of shots in the first 15 minutes of the second half but never found net. During that time, two shots hit the post, Miller saved three others, and senior midfielder Amy Geha recorded a backsave -- where a defensive player clears the ball off the goal line.
The momentum soon swung back to Kansas, though, and the Jayhawks began peppering the Billiken goal. A four-shot flurry by Caroline Smith and Jessica Smith didn't result in a goal, but Gilfillan found net in the 65th minute off a pass from sophomore Holly Gault and pressed the lead to 2-0.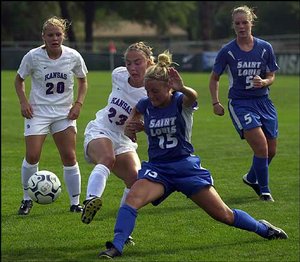 SLU never threatened again.
Notes
All-America forward Caroline Smith returned to action Sunday after sitting out Friday's game with an undisclosed injury.
Sunday's announced attendance of 816 fans was the second-largest crowd in KU soccer history.
Kansas next plays at 6 p.m. Thursday at the Furman Tournament in Greenville, S.C., against Furman.
More like this story on KUsports.com