Abbotsford, British Columbia — Sunday definitely was not a day of rest for Kansas University's men's basketball team.
Laboring on Labor Day eve, the Jayhawks pounded University College of Fraser Valley, 106-71, at Mennonite Educational Institute's high school gym -- a mere eight hours after lashing Langara, 101-46, 40 miles down the road in Vancouver.
"I thought we played well today," KU coach Bill Self said. "Keith and J.R. keyed it tonight. Keith's been laboring with his knee bothering him. He's working through it. His body won't do what his brain tells him to do, but he'll be fine."
As Self said, KU was led by two players who had been off to a slow start in Canada as they recover from offseason surgeries.
J.R. Giddens hit three of seven three-pointers, scored 23 points and was named player of the game. He had 16 first-half points, showing no ill-effects of his foot and knee surgeries.
And Keith Langford, who had knee stiffness early in the day, scored 21 points off 9-of-13 shooting. He scored 12 points in the first half as KU raced to a 54-36 lead against a team that was defeated by UNLV, 103-62, earlier in the day.
"J.R. really lit it up the first half," Self said.
Giddens said it was the best he had felt in a while.
"It was probably one of mine and Keith's better days, coming off our injuries," Giddens said. "Today was the first day I could dunk, the first day I had hops. I'm glad to get my legs under me, but the second half I was tired."
Langford's knee is about 70 percent.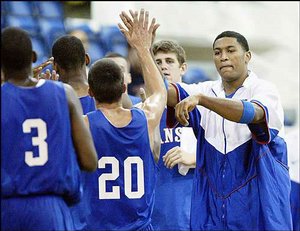 "It's been frustrating, but everybody is staying positive around me. When it counts, I'll be ready," Langford said.
KU had a few scares in a physical game. Alex Galindo was sandwiched between a couple of players, went down hard and briefly headed to the locker room. He returned shortly after and went flying out of bounds, hitting the floor hard playing defense.
"Alex went from having a separated shoulder and fractured lung to being back in the game in 30 seconds," Self joked. "He's fine."
Also, Wayne Simien (15 points) was hammered hard on a foul but was not injured.
"Wayne got fouled hard. I was going to take him out anyway (with six minutes left), and that reinforced my decision to take him out," Self said.
Fraser Valley was led by guard Adam Friesen, who had 19 points.
Today, KU concludes its four-game Canada swing. The time of the Simon Fraser game has been switched to 1 p.m. CDT.
Future KU guard Micah Downs attended Sunday's nightcap with his family members, making the three-hour drive from Bothell, Wash.
Asked about the game, Downs said, "The teams looks great, especially J.R. He's really playing well."
Downs was impressed by KU's 100 fans, who helped fill the 1,400-seat gym.
It was the biggest crowd in the school's history.
"It shows how much the team means to the fans, them coming all the way from Lawrence," Downs said.
More like this story on KUsports.com