Kansas University netted 80 yards and three points in the first half of Saturday night's season opener at Memorial Stadium.
Adding Charles Gordon and John Randle to the mix in the second half made all the difference for the Jayhawks' offense in a 21-3 victory over Tulsa.
"I was ready to go in," said Gordon, who was KU's leading receiver as a freshman last season but is a starting cornerback this fall. "I saw them struggling, and it was kind of frustrating. I just stayed prepared until coach called me."
Coach Mark Mangino watched a dismal first half, in which sophomore quarterback Adam Barmann completed just seven of 19 passes for 57 yards. Barmann wasn't totally to blame because Jayhawk receivers dropped several passes.
Mangino put Gordon in on KU's second offensive series of the second half, and Gordon hauled in a seven-yard touchdown pass from Barmann with 2:42 left in the quarter.
"I'm always happy to see Charles in the huddle," Barmann said.
Gordon wasn't the only offensive weapon Mangino saved for the second half. Randle, a backup tailback who was arrested three times during the past school year, was benched during the first half as part of his punishment.
He rushed 17 times for 56 yards, including a 15-yard scamper that set up Gordon's touchdown.
"We bring a lot of energy to the huddle," said Gordon, who caught two passes for 10 yards and also proved to be a valuable decoy. "We tend to spark the team every time we're in."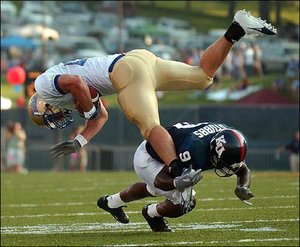 Starting tailback Clark Green -- KU's leading rusher the last two years -- gained just 23 yards on six carries and gave way to Randle in the second half.
"We're going to go with the guy that's running well," Mangino said. "I've talked to Clark already, and he needs to heed it. Clark's done a great job in the weight room, but he's eight to 10 pounds heavier than he was last year, and he looked like it tonight. He's not out of shape. He felt like he needed to get in the weight room and gain all this weight. He didn't. He needs to run well. I thought he didn't have any explosion. His legs were dead after a couple of series.
"He needs to be careful because John Randle is like the Energizer Bunny. You can't wear John Randle out."
Randle, who did not talk to the media, was stopped on fourth-and-goal on KU's next drive, and Tulsa took over at its own two-yard line.
It didn't matter much. Tackle Tim Allen recorded one of KU's six sacks on the following play, and the safety gave Kansas a 14-3 lead.
Barmann made it 21-3 with a one-yard touchdown run with 8:42 remaining after linebacker Kevin Kane returned an interception 18 yards to the Tulsa two-yard line.
"You know how much crap he got in the locker room?" linebacker Gabriel Toomey said of Kane not making it to the end zone. "No, I'm thrilled for Kevin Kane. He's a great player."
Kane -- one of four Jayhawks making his first start -- also registered a sack. The revamped unit looked nothing like the Kansas defense that allowed averages of 30.5 points and 412.6 yards per game a year ago.
Tulsa's 141-yard, three-point performance was equally surprising. The Golden Hurricane averaged 30.7 points and 387.8 yards a game last year when it posted an 8-5 record.
Quarterback James Kilian, a Johnny Unitas Award candidate who passed for 2,217 yards and rushed for 605 as a junior, was under constant pressure Saturday and finished with 91 yards passing and minus-3 rushing.
"You might have to put together a 10- or 12-play drive to score against these guys," Kilian said, "and we couldn't do that tonight."
KU's other defensive newcomers also provided big plays. Cornerback Theo Baines grabbed an interception at KU's 29 to stop one Tulsa drive. Baines' Tyler (Texas) Junior College teammate Jermial Ashley broke up two passes, and the defensive end also recovered a fumble that set up Johnny Beck's 51-yard field goal late in the first half.
"I'll be honest with you," Mangino said of his defense. "I thought we'd be better, but I didn't think we'd have this kind of game against James Kilian."
Barmann didn't have the kind of game he was hoping for, finishing 14 of 31 for 99 yards with one touchdown and one interception.
"We scored 21 points," he said. "And that was enough to win."
More like this story on KUsports.com