Vancouver, British Columbia — University of British Columbia coach Kevin Hanson was stunned to look into the stands and see 400 Kansas University basketball fans Saturday at War Memorial Gym.
"I've played and coached for 25 years, and I have never seen a following like KU's," Hanson said after his Thunderbirds fell to the Jayhawks, 82-51, in front of about 2,000 fans.
"We had practice yesterday here, and Kansas fans came down at the end to tell us what a nice facility we have and how they are happy to be here. We had phone calls from people in 30 states asking about tickets for this game."
Hanson enjoyed hearing KU's fans perform the "Rock Chalk Chant" in the closing minutes.
"Canadian fans need to be a little bit educated on some of the cheering done in games, and anytime you can get a team like Kansas to come here, it is educational," Hanson said.
He was impressed with the Jayhawks, who hit 46.5 percent of their shots and held the T-birds to 28.6 percent shooting. KU, which used pressure defense at times and ran well with the basketball on offense, forced 27 turnovers and plucked 17 steals.
"Kansas didn't give us open looks. It's a great tribute to them to play defense like that so early in the season. They do a great job fighting through screens. And Simien ... nobody in Canada has a match for him," Hanson said.
KU senior power forward Wayne Simien had 24 points off 9-of-12 shooting. He had 13 rebounds in 22 minutes.
"He's one of the best players we'll see all year, if not the best," said UBC forward Casey Archibald, who had 12 points and six boards in 30 minutes. "Their big guy in the middle hurt us the most today."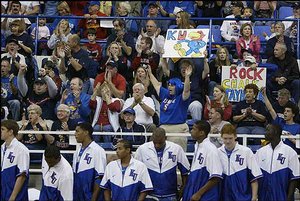 Archibald hit five of 14 shots, including one of eight threes. As a team, UBC made two of 14 threes; KU hit five of 17.
"They are a pretty good team. We made them look good at times, too," Archibald said. "We're not used to playing this early in the season. We had 27 turnovers. I want to give them credit, not too much credit. I think if we played them again in the regular season it would not be a 31-point game."
Collison attends
Former KU forward Nick Collison of the Seattle SuperSonics made the 2 1/2-hour drive from Seattle to attend.
"We didn't get lost on the way. We got lost here in Vancouver, that's why I was late," said Collison, who walked in the gym shortly after tipoff.
"It's great to see KU play anytime I can see them play, and I've wanted to get up here to Canada for some time now. I've never been here.
"The team looks good. They've got a lot more depth than we've had the last couple of years. They look good. Obviously, it's just an exhibition game, a little sloppy, but that's to be expected. Like everybody has said, this will be great for the freshmen."
Collison was impressed with 6-foot-10 C.J. Giles, who was credited with one block, but appeared to have three or four more.
"The type of player he is ... he can change a game blocking shots and being active," Collison said. "I like all the freshmen. It looks like a very good team to me."
Free time minimal
The Jayhawks, who are staying at the plush Marriott Harbourside Hotel, do not have a lot of time for sightseeing here.
"We're going to shower, have dinner then from 6:30 (p.m.) on, give the guys free time," Self said. "They'll have until 11 or 12 tonight. We're staying in a beautiful area where the guys can see a lot in a two to three block area. We'll turn them loose, and then tomorrow we have a busy day."
KU will play Langara College at 1 p.m. in Vancouver, then head out to Abbottsford, about 40 miles away, for a 9 p.m. contest against Fraser Valley.
"We will not play everybody both games," Self said, indicating Aaron Miles, Michael Lee, Wayne Simien, J.R. Giddens and Keith Langford might not even play in the opener against two-year school Langara.
Moody starts
Self used a starting lineup of Langford, Miles, Simien, Lee and Christian Moody.
Board woes
Self was not pleased with the newcomers' rebounding early.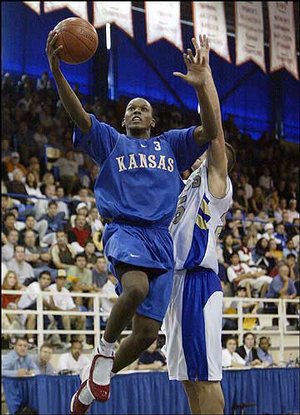 "Coach got on them at halftime," Simien said of Darnell Jackson, Giles and Sasha Kaun, who had four boards the first half and finished with 16 for the game. "They might have had the jitters early, so this was really good for them."
Giles had seven boards total, Kaun five and Jackson four.
"I think there's some nerves playing the first time in this kind of atmosphere," Self said. "We didn't rebound quite as well as we should and fouled too much. That's bad defense and also my fault. That's also we're playing with officials not from our area."
Sleepy-eyed Jayhawks
KU's team arrived at the team hotel at 1 a.m. Saturday, three hours later than planned.
There was mechanical problem on KU's connecting flight in Denver.
"I was a little tired last night," said KU freshman Russell Robinson, who had 12 points off 5-of-11 shooting, "but we had a lot of fans greet us at the hotel. It was great to see all those fans."
Plays of note
Michael Lee opened the scoring with a three ... Moody, who started, had a follow dunk and nifty layup ... Simien thrilled the 2,000 fans with a slam dunk off a feed from Miles on the fastbreak. ... Miles had four steals and three layups off steals. ... Giles had a layup on the high/low offense off a feed from Darnell Jackson. ... Stephen Vinson scored KU's final points on a late bucket.
More like this story on KUsports.com