Tonight's Late Night in the Phog men's basketball scrimmage figures to be crisper than midnight workouts of the past.
That's because the 2004-05 Jayhawks already have a feel for each other after practicing 10 times in August and playing four games in early September as part of the squad's season-opening foreign tour in Can-ada.
"I think the 10 practices and the trip were good for this team," KU senior forward Wayne Simien said. "The games in Canada were great for developing camaraderie on the road and getting the young guys a feel of how it's going to be, getting to know each other better."
The practices may have been more valuable than four blowout victories against outmanned Canadian college teams.
"The practices were tough, but I think much-needed for this team," senior guard Michael Lee said. "I think they were very helpful. We also played pretty well in the games."
KU blew out British Columbia (82-51), Langara (102-46), University College of Fraser Valley (106-71) and Simon Fraser's Burnaby Mountain All Stars (98-76) over three days in the Van-couver area.
"I think it was a very productive trip and 10 great days of practice," KU coach Bill Self said. "The competition was better than I thought it'd be. We gained a lot from it."
The trip was especially helpful considering KU won't have a true road game until Jan. 9 at Kentucky.
"The best thing," noted Aaron Miles, "was having the opportunity to have everybody get adjusted to each other. I'm excited about this year and excited about the freshmen."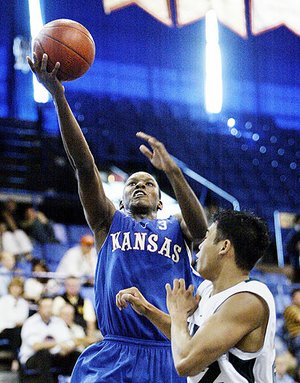 Here's a quick summary of KU's four games in Canada:
KU 82, University of British Columbia 51
Officially, C.J. Giles was credited with one blocked shot in KU's runaway victory at War Memorial Gym.
"He had two to three more than that," Self said of the Jayhawks' pencil-thin human eraser, who deflected more shots than a Team Canada World Cup goalie.
In fact, aside from senior Wayne Simien, who scored 24 points and grabbed 13 rebounds, the 6-10, 222-pound freshman from Seattle, who had four points, seven rebounds plus a handful of blocks, just might have been unofficial player of the game.
"Aside from Wayne (13 boards), he was by far our best rebounder," Self said of Giles, who played 12 minutes in his Jayhawk exhibition debut.
"At first I had jitters. After I made my first blocked shot, they went away," Giles said.
KU freshman Russell Rob-inson impressed with 12 points and three assists in 18 minutes.
KU 102, Langara 46
Freshman shooting guard Alex Galindo exploded for 16 points and grabbed 10 rebounds in the Jayhawks' laugher over the outmanned Falcons.
KU's first-year players combined for 77 of the 101 points during the first game of a Sunday doubleheader in which Miles, Simien, J.R. Giddens and Lee were rested.
Frosh center Sasha Kaun had 20 points and nine rebounds, hitting three baskets off lefthanded hooks, while frosh pivot Darnell Jackson contributed 19 points and five boards. Guard Robinson had 12 points and five assists. Center Giles contributed 10 points, four boards and a block.
"We've got great chemistry," Galindo said. "I think it's going to be a great (freshman) class."
"We're the Fab Five ... in a couple years," said Jackson, KU's 6-foot-8, 240-pounder from Oklahoma City.
The freshmen had 38 points the first half as KU blitzed the home team, 46-19.
KU 106, University College of Fraser Valley 71
In the second game of a Sunday doubleheader, the Jayhawks rolled at Mennonite Educational Institute's high school gym in Burnaby.
Giddens hit three of seven threes and scored 23 points and was named player of the game. He had 16 first-half points, showing no ill effects of his offseason foot and knee surgeries.
Langford, who had knee stiffness earlier in the day, scored 21 points off 9-of-13 shooting. He scored 12 the first half as KU raced to 54-36 lead against a team beaten, 103-62, by UNLV earlier in the day.
"J.R. really lit it up the first half," Self said.
In one scare, Galindo was sandwiched between a couple opposing players and went down hard and briefly headed to the locker room. He returned shortly after and went flying out of bounds, hitting the floor hard playing defense.
KU 98, Burnaby Mountain All Stars 76
Simien capped a stellar trip with his best game, a 25-point outing off 12-of-15 shooting.
Simien, who played in three of four blowout victories on the trip, sitting out one game with the rest of the seniors, cashed 27 of 37 shots, including two of four threes. He made all of his nine free throw tries.
Lee scored 17 points thanks to three-of-four three-point shooting. Also, Galindo hit six of eight shots for 15 tallies.
"I tried to relax the second half," said shooting guard Lee, who scored seven points the first half as KU led, 47-35, after 20 minutes.
Giles scored six points with three rebounds and a block.
It was a rugged game, the teams combining for 43 fouls. KU hit 10 of 19 free throws; SFU 22 of 27.
"It was a little physical out there, it's just part of the game," Lee said.
More like this story on KUsports.com