"Bonnie Ball" -- that is, basketball Bonnie Henrickson style -- is coming to Allen Fieldhouse this season.
Henrickson last spring took the reins of KU basketball after seven successful seasons at Virginia Tech. Her resume includes five NCAA Tourn-ament appearances, two WNIT appearances and an average of 23 wins per season.
"I have confidence in myself and my staff without hesitation that we can coach," said Henrickson, who takes over for veteran coach Marian Washington. "Our biggest challenge, like every program in the country, is to bring in the type of players it takes -- kids that want to be coached, are good people, good students, are committed to every aspect of their life."
She inherits a group of players not lacking in desire.
"What people can expect from our staff and this team is effort, enthusiasm and unsel-fishness," Henrickson said.
What people should not expect is height. The squad's tallest player is last year's MVP, Crystal Kemp, who is 6-2. Only Blair Waltz, Alicia Rhymes and newcomer Jamie Boyd stretch as tall as six feet.
The roster includes five returning guards -- Larisha Graves, Aquanita Burras, Erica Hallman, Sharita Smith and Kaylee Brown, who along with newcomer Taylor McIntosh will be pushing the ball.
"As a group, we've got to be able to run, and that's why our conditioning level -- our ability to be fit and play extended minutes -- for all of these kids is going be important," Henrickson said.
"We have been a team that likes to get up and down, and we asked all of the players if they liked to run. They all nodded their heads. We think it's a style they love to play and a style that fans love to watch."
Fans at Late Night in the Phog will be able to cheer three seniors. Waltz, the only four-year senior, averaged 3.5 points, 1.6 rebounds and 1.3 assists per game a year ago. She has posted 22 career double-figure scoring games.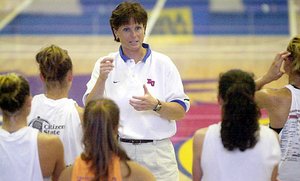 "Blair has a good stroke, and we'll look to free her up off some screens," Henrickson said.
Burras has suited up for KU for two seasons after transferring from Central Arizona College. For her career, she has averaged 10.3 points, 5.3 boards, 2.3 steals and 1.8 assists per game.
"Aqua's athletic and can get to the rim," Henrickson added. "She plays strong, and I would anticipate her being a pretty good rebounder for us at the guard position."
Rounding out the senior class is Graves, a transfer from Southwest Tennessee College. Graves averaged 7.2 assists, 3.5 rebounds and 3.0 assists a year ago.
"ReRe showed some real progress in the spring and her conditioning has improved," Henrickson said. "It will be important for her to make good decisions at the point guard position, for her to get the ball to the right people in the right manner. She caught on quickly to some fundamental things we addressed with her."
Kemp averaged 13.4 points to lead the team her sophomore campaign.
"Crystal shoots the ball well and is very coachable," Henrickson said. "We'll look for creative ways to get looks for her. We need to make her hard to guard. We can't sit her in the paint all night."
A pair of junior guards return in Hallman and Brown. Hallman is in her third year, while Brown will suit up for her second season at KU after a year at Northern Oklahoma Community College at Enid.
Hallman is the team's top three-point shooter and already has cracked the KU top-10 all-time leaders in three-pointers made and attempted and three-point percentage. She has posted career numbers of 7.4 points and 3.3 assists per game.
As a sophomore, she dished a team-best 91 assists while committing 45 turnovers to lead the team and rank third in the Big 12 in assist/turnover ratio.
"Erica is able to put the ball on the floor and with her, as with anyone who can put it on the floor, it will be about making good decisions. She's got to be able to know when to create a shot for herself or when to drop a pass."
Brown came to KU touted for her long range shooting but was used sparingly as a sophomore.
"Kaylee shot the ball pretty well this spring" Henrickson said. "We'll try to run her off some screens and utilize her strengths."
A pair of sophomores return including Smith and Rhymes.
Smith went down with an injury in the preseason and missed the first 10 games of the year as a freshman. She gradually worked her way back and became an important role player by the end of the season.
Rhymes went through similar troubles with injuries prior to her freshman season and played sparingly last season. Rhymes and Smith are still working to become healthy.
Jamie Boyd is Henrickson's first signee. Boyd posted 17.8 points, 8.1 rebounds and 2.4 blocks per game for Under-wood, Iowa, High.
At Wichita Heights, McIn-tosh scored over 1,400 points in her and led her team to an overall record of 89-8 in that span.
More like this story on KUsports.com