Twin sisters Katie and Liz Mukherjee have made Allen Fieldhouse their home away from home.
The two Kansas University freshmen from Overland Park turned a spot in front of an empty concession stand into a virtual dorm room on Thursday-- strewn with pillows, pizza boxes, textbooks, computers and a volleyball -- while waiting to claim seats for tonight's season-opening basketball game against Vermont.
All that was missing, they said, was a TV and Nintendo game system.
"We've always sat in the front row, so we want to keep that streak going," Katie Mukherjee said. "And I'm going to paint my body blue."
Such devotion was the norm among the more than two dozen other students who have been camping since Monday at Allen Fieldhouse, waiting for good seats to watch the beginning of a journey they hope ends in April with the Jayhawks cutting down the nets at the Final Four in St. Louis.
Each student in line Thursday represented a group of as many as 30 friends, taking shifts to save their place in line. The groups had names signifying their devotion to KU basketball. The Mukherjees, for example, represented "Miles from St. Louis," an expression of Final Four dreams.
Derek Weber represented a group whose name signified rude disdain for Missouri basketball coach Quinn Snyder.
Weber, a Lawrence senior, said group members took turns to make sure no one missed class. But there's no choice, he said, between skipping class and abandoning a spot in line.
"You can't lose your spot in line," he said. "If you don't camp, you'll be sitting up in the rafters. You might even miss the good games."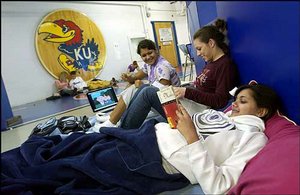 There are 4,000 student tickets available -- many in prime viewing spots close to the floor -- for men's basketball games in the fieldhouse, which holds more than 16,000 fans. Weber figures this season is his last chance to watch the games up-close.
"I'll probably never be able to donate enough to the Williams Fund to get enough points" for good seats, he joked, referring to the new ticket-distribution system for nonstudents that depends heavily on athletic donations.
Besides, Katie Mukherjee said, fieldhouse living wasn't all that bad.
"You get your homework done, you chill and you sleep," she said.
Tip-off is at 7 tonight at the fieldhouse.
More like this story on KUsports.com