A native of tiny West Barnet, Vt., (pop. 300), Taylor Coppenrath arrived at the University of Vermont five years ago with modest athletic and huge academic aspirations.
"He came here wanting to be a math teacher. He can still be a math teacher, but may be good enough to do some other things, too," Catamounts coach Tom Brennan said.
Like playing basketball for a living.
In all, 10 NBA scouts will be in town tonight to watch Coppenrath, who has been compared by some to Larry Bird, plus teammate T.J. Sorrentine and a bushel of Kansas University basketball players with pro potential.
Tip for the season opener between the Jayhawks and Catamounts is 7 p.m. at Allen Fieldhouse.
"I try to not get caught up in that," the 6-foot-9, 250-pound Coppenrath said of playing before scouts and voters for postseason awards. "I take every game as it comes and try to make plays to help us win."
The level-headed Coppenrath, who averaged 24.1 points a game his junior year for the two-time defending America East Conference champs, definitely wants to explore the possibilities of playing pro ball.
"Yes I do," he said.
But if he doesn't make the grade, he already has something to fall back on -- teaching.
Coppenrath spends his weekday mornings and early afternoons as a math instructor at Colchester High -- earning 12 hours of credit for his student-teaching duties.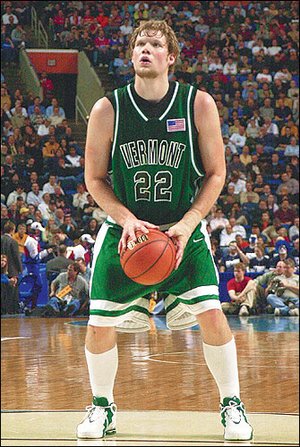 "I observe part of the time, then take over, prepare lessons. (I'm) basically back in high school," said Coppenrath, a whiz at algebra and trigonometry, who, after the final bell sounds, spends the rest of his waking hours calculating ways to put the ball in the basket.
Coppenrath scored 38 points in a one-point loss at UCLA last season and 41 in a win over Northeastern.
He exploded for a career-high 43 points in the Catamounts' America East Conference tournament championship victory over Maine, despite playing with a broken wrist, which had kept him out the previous seven games.
Still hurt, he scored just 12 points in Catamounts' 70-53 first round NCAA Tournament loss to eventual national champion Connecticut.
"Once you get out there, you never know what will happen," Coppenrath said. "It's one of those things you play the game, and when it's over you look (at stats) and say, 'Whoa.' I never think about scoring. I think it just comes."
Coppenrath, who signed with Vermont over Colgate, Bucknell and a few other small schools, including Division II Saint Michael's of Burlington, Vt., is capable of scoring in a hurry.
"He is a potential first-round draft pick," KU coach Bill Self gushed. "The game is in slow motion to him. He never gets in a hurry. He can play inside or on the perimeter. He would for sure be first-team all-league in our league. He's that type guy: first-team all-league in the Big 12."
Added Brennan: "He is great around the basket, a great offensive rebounder and foul shooter. He's got good feet, excellent hands. He's like (Detroit Tigers catcher Ivan) 'Pudge' Rodriguez: He catches everything."
The Jayhawks realize they face a big challenge in stopping Coppenrath.
"He's a great player," said junior Christian Moody, who will start tonight next to Wayne Simien in the frontcourt. "If I get a chance to guard him, I'll be really excited. He's had a great career."
As to how he'll fare tonight ... stay tuned.
"I've never been to Kansas. I've heard some stories about it," Coppenrath said of Allen Fieldhouse. "It's exciting to go to a big name school and play. I think this game will be good for us either way. We'll get a good look at where we stand.
"We're not nearly as talented but we have some good size and a little bit of depth. A win would be incredible down there. We'll just see how we can do against the top team in the NCAA."
More like this story on KUsports.com