The letters may or may not cross in the mail.
Big 12 Conference commissioner Kevin Weiberg will no doubt send a letter of reprimand and levy the obligatory $10,000 fine against Kansas University football coach Mark Mangino for second-guessing the officiating.
At the same time, Mangino almost certainly will post a letter to the Big 12 Conference office complaining about Freeman Johns, a veteran Big 12 official who hails from the Dallas area.
Mangino didn't come right out and say it, but the KU coach hinted that Johns' controversial offensive-pass-interference call against KU's Charles Gordon late in the Jayhawks' heartbreaking 27-23 loss to Texas was money-motivated.
As in BCS money.
If Kansas had stunned Texas, the Longhorns would have been toast in the BCS rankings, and that would have cost the Big 12 -- Kansas included, of course -- millions of dollars in bowl payouts.
To be honest, I doubt if Johns was thinking BCS when he threw the flag with 2:32 remaining, costing Kansas a first down, allowing the Longhorns one more crack at salvaging their season and keeping alive the potential for enhancement of the Big 12 bowl exchequer.
Whatever Johns was thinking, the only certainty is that the Big 12 side judge didn't act quickly. He did not extract the flag from his pocket until Gordon had caught the first-down pass and was prone on the turf.
Was it a bad call? Mangino obviously thought it was. So did most of the KU players, although many worded their responses like linebacker Nick Reid, who said: "We've all got an opinion on that, and I think you know what my opinion is."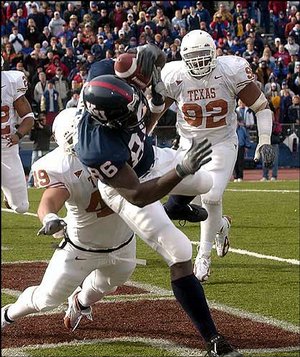 In fairness, one KU player gave Johns the benefit of the doubt.
"I'm not a ref," linebacker Gabriel Toomey said. "They're human. They make mistakes, and we can't put the blame on anybody but ourselves."
That's true. Reid, for example, put together one of the best games of his career with 14 tackles. That's more tackles than any Jayhawk has made in a game this season. Yet, if Reid had made 15 tackles, Mangino likely wouldn't even have mentioned the controversial pass-interference call.
With about a minute remaining, Texas was in a desperate situation, facing fourth and 18. Quarterback Vince Young went back to pass, was bottled up and scrambled to his right, heading for the first-down marker. In his path, about three yards in front of the marker, stood Reid.
Here was a classic moment -- one of the Big 12's best ball-carriers against one of the league's leading tacklers -- and Young won. Reid whiffed the elusive Texas QB, who scooted 22 yards for the first down. Moments later, the 'Horns scored the game-winner.
"Fourth and long and they got it done," Reid said softly. "I missed the tackle. It hurts."
Still, Reid quite likely wouldn't have been in that position if Johns had kept his hand out of his pocket.
Adding to the intrigue is the fact Mangino and Johns have a history. Side judges work on the visiting team's sideline, and Johns was in front of the Jayhawks' bench during the Oklahoma game Oct. 23 in Norman, Okla. In that game against -- either coincidentally or curiously -- the Big 12's other BCS contender, Johns whistled Mangino for a 15-yard unsportsmanlike-conduct penalty.
In recounting that incident Saturday, Mangino groused about that call, too. As Mangino related it, Johns had told him to stay off the field and Mangino had disobeyed.
"I told him I was off the field," Mangino recounted, "and he said my body was gyrating."
As an ample man with plenty of body to gyrate, Mangino couldn't be faulted for considering the remark offensive. But officials aren't fined. Coaches are.
Then again, perhaps Mangino's uncustomary postgame outburst was the culmination of what has to be his most frustrating season, either as a head coach or an assistant.
Five of the Jayhawks' seven defeats have been by six points or less. Moreover, KU had a halftime lead against all four of its conference opponents at Memorial Stadium, yet won only one -- the 31-28 victory over Kansas State.
Toss in the fact Mangino has suffered the actuarial improbability of losing his starting quarterback to injury in three consecutive games, and the ignition may have been inevitable.
As inexplicable victims of cruel and unusual fate, all Mangino and the Jayhawks can do is hope their bad luck ended Saturday and, with the season finale at Missouri coming up Saturday, cross their fingers they won't have to wait until next season for their fortunes to turn.
More like this story on KUsports.com