With everything stacked against Kansas University's football team Saturday against No. 6 Texas, Jayhawk coach Mark Mangino wasn't in the mood to see officiating as another obstacle.
After Saturday's 27-23 loss to Texas at Memorial Stadium, Mangino lashed out.
KU's third-year coach wasn't shy in criticizing officiating after Saturday's game, saying a late offensive-pass-interference call on Charles Gordon was wrong and implying that Texas' Bowl Championship Series implications -- and the subsequent payout to the Big 12 Conference if UT qualifies -- might have had something to do with it.
"You know what this is about, don't you?" Mangino asked reporters. "BCS. That's what made the difference today in the game. That's what made the difference in the call in front of their bench. Dollar signs."
Mangino's outburst -- he later issued a statement retracting his comments -- was shocking, considering his usually reserved demeanor when speaking to the media, but the call did have a huge influence on the outcome of the game.
KU was leading 23-20 with 2:54 left in the fourth quarter when KU called a pass play on third down and seven. KU quarterback Brian Luke found Gordon open for what looked to be a 16-yard gain, but the officials called offensive pass interference, suggesting they thought Gordon pushed off cornerback Tarell Brown prior to making the catch. The flag forced the Jayhawks back to their own 13-yard line for a long third-down play instead of picking up a crucial first down that might have put a KU victory on ice.
One play later, KU punted, and Texas drove downfield and scored the winning touchdown with 11 seconds left, a Vince Young completion to Tony Jeffery from 21 yards out.
Mangino, Gordon and other KU players who saw it insist that Gordon did a "swim move" to get free from his defender, which basically means he approached Brown in the secondary, swung his right arm over Brown's body and broke left to get away.
"He executed a move that's taught by every offensive coach in America, and a guy got into his body," said Mangino, who added he didn't get any sort of explanation from the official. "He made a swim move, which is taught by every wide-receivers coach in America -- NFL, high school and college."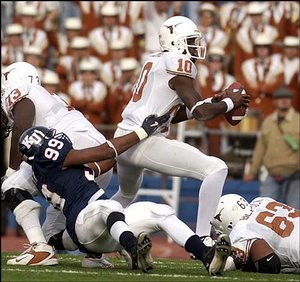 Predictably, Gordon wasn't as willing to be critical of the call, but admitted he was surprised by the flag.
"I just ran the route, and I felt like I swam him," Gordon said. "I guess the refs thought I did something wrong. "
Said Mangino of Gordon: "He's one of the best players in the conference. He knows how to play football."
It is true that the Jayhawks (3-7 overall, 1-6 Big 12) had a lot less to lose than the Longhorns, now 9-1 overall and 6-1 in the Big 12. If the Longhorns win out, they very well could land a berth in the BCS, which invites the top eight teams in the nation to the Orange, Rose, Fiesta and Sugar Bowls. All four of the games come with huge payouts to the participating schools and the schools' conferences.
But the game didn't end with Gordon's play. Most notably, Texas still faced a fourth-and-18 situation to go from its own 45-yard line on the game's final drive, but Young scrambled right, avoided a tackle attempt by Nick Reid and managed to get 22 yards and the first down with 1:00 to play. That prolonged UT's chances, and the Longhorns took advantage four plays later with the touchdown reception by Jeffery.
Texas actually was down 23-13 midway through the fourth, after long drives by KU culminated with a one-yard touchdown run by Austine Nwabuisi and a one-yard touchdown pass from Luke to Lyonel Anderson.
Texas, though, came back within three with an 18-yard touchdown run by Young. That play came soon before Gordon's pass-interference call shook things up -- and set off Mangino.
"All of America saw it at home and watched the play," Mangino said, citing the game's regional telecast on Fox Sports Net. "All the college football fans that watched the game today ... we'll let them be the judge about that call."
Mangino's eruption surely won't go without punishment. He likely will be reprimanded by the Big 12 and could face a hefty fine.
He didn't seem to care Saturday.
"I've got a team to fight for, and I'm not going to be pushed around or this university pushed around because we're not the big spenders, we're not the big BCS team in the league," Mangino said. "I'm not going to put up with that."
4:11Time it took for Texas to score 2 fourth-quarter TDs275Yards rushing for UT's Cedric Benson, Vince Young$10,000Fine likely to be levied against KU coach Mark Mangino for his comments about officiating
Texas coach Mack Brown was asked to respond to Mangino's comments, but he steered clear of making any headlines himself.
"I won't make any comments on the other coaches' comments, because his team did play really well," Brown said. "I know he's really proud of them, and I know he's very frustrated, too.
Kansas University coach Mark Mangino backpedalled a bit in the hours after his comments critical of the officiating in the Jayhawks' 27-23 loss Saturday to Texas.Saturday night, he released the following statement:"After an emotional loss, in our seniors' last home game, I made remarks that I regret. Any implications that BCS standings played a role in Saturday afternoon's game was inappropriate. I have always supported the BCS system and will continue to do so."KU athletic director Lew Perkins added the following: "I support coach Mangino as our football coach and I also support the integrity of all of the individuals associated with the Big 12 Conference."
"The other thing I would say," Brown added, "is that I think we had 100 yards more penalties than they did. Obviously, those are comments for the Big 12 office, not for me."
Texas was penalized 10 times for 103 yards, while KU had just three flags for 23 yards. It might be more of a trend, though. Since KU's loss to Oklahoma on Oct. 23 -- and Mangino's postgame vow to clean up KU's early season penalty trouble -- KU has had eight penalties in three games. In that same stretch, Texas has had 25.
Regardless, the game's outcome won't change, and Kansas heads into its season finale at Missouri next week on a four-game losing streak.
In most of KU's seven losses -- all but one a nail-biter -- Mangino was quick to give compliments to the opposing team for gutting it out and playing better down the stretch.
Saturday was a completely different story -- and a completely different Mangino.
"Normally, I give credit to our opponents, but I'm not going to do that today," Mangino said. "Our kids outplayed them and should've won the game. They deserved the win."
More like this story on KUsports.com