So, just how similar are Kansas University and Colorado, two football teams that will square off today at Memorial Stadium?
Well, when describing each other's defense, KU coach Mark Mangino and CU coach Gary Barnett used the exact same phrase to get the point across Tuesday during their respective media sessions.
"They kind of have a bend-don't-break philosophy," Mangino said of the Buffalos.
"They are a bend-don't-break kind of scheme, and they tackle really well," Barnett said of the Jayhawks.
Both coaches agreed their teams might as well be looking in a mirror when they line up against each other at 12:30 p.m. today.
"Bend-don't-break" refers to the need for an opposing offense to sustain a long drive, pound the ball for small gains and hope it adds up. Statistically, neither defense is smothering the opposition for minimal yardage, but the two teams are keeping opponents out of the end zone at a respectable clip.
Colorado is by far the worst in the Big 12 Conference in total defense, allowing nearly 442 yards per game. But in scoring defense, the Buffaloes jump to eighth place in the conference, allowing 23.8 points per game. Nebraska, Texas Tech, Kansas State and Baylor have allowed more.
"They give up yards and points, but they don't give up a lot of huge plays," Mangino said. "You've got to earn it against them."
The Buffalos (4-4 overall, 1-4 Big 12 Conference) have been hampered by a tough conference slate, which included losses to Oklahoma State, Texas and Texas A&M.; Their lone loss in the Big 12 North was a 17-9 setback to Missouri on the road last month.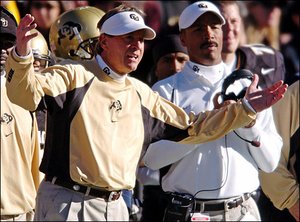 "In some ways, Colorado is like us," Mangino said. "They've lost some tough games."
For KU to bend Colorado's offense right out of today's contest, they'll have to play solid defense against the pass. CU's high-impact running back, senior Bobby Purify, is hampered with a lingering shoulder injury and isn't expected to make a huge difference. Instead, the Buffalos will rely on the arm of quarterback Joel Klatt, who has 1,454 passing yards and five touchdowns this year.
Klatt isn't prone to play favorites, either, making the job of KU cornerbacks Theo Baines and Charles Gordon and safeties Tony Stubbs and Rodney Harris a non-stop gig. Five Buffalos have caught at least 20 passes on the year, and four have over 200 yards receiving. But only one, junior Evan Judge, has more than 300 yards receiving.
"Their offense, at times, has been explosive," Mangino said. "Joel Klatt is certainly a quality quarterback. When he's hot, he can do some damage."
Kickoff: 12:30 p.m. today.Where: Memorial Stadium.Line: Kansas by 3.Radio: Jayhawk Radio Network, including 1320 KLWN.Television: 10 a.m., Sunday, Sunflower Broadband Channel 6.Series: Colorado leads 39-21-3.
With each team 1-4 in the Big 12 North, today's game will be a battle to see who can scrape out of the bottom of the standings. Colorado, Kansas and Kansas State have identical conference records.
"We have a saying that says, 'They remember what you do in November,'" Barnett said. "That's the kind of team we want to be."
More like this story on KUsports.com