Asked why he robbed banks, famed stick-up man Willie Sutton once replied: "That's where the money is."
In a similar but strictly legal vein, if you ask Kevin Kane why he likes to play middle linebacker, the Kansas University junior will tell you it's where the action is.
"There are lots of people where I'm at," Kane said with a smile. "There's no easy way around it. The more I'm out there, the happier I am."
Most of the banter about KU's improved defense has focused on the contributions of newcomers like juco transfers Rodney Harris, Theo Baines and Jermial Ashley, but many of the incumbent defenders also have boosted their game a notch or two, and none more than Kane.
After recording a career-high 12 tackles in Saturday's 13-7 loss to Iowa State, Kane has moved into third place on the team tackle chart, two behind strong safety Tony Stubbs -- another returnee having a noteworthy season -- but 36 behind outside linebacker Nick Reid, who is having an all-conference-type year.
Asked if he thought he had any chance of overhauling Reid as the Jayhawks' leading tackler, Kane smiled and quipped: "Yeah, if he's not playing. He's having a great year, and I hope he's recognized."
Speaking of recognized, there are two ways of noticing Kane on the field. One is numerically. He has jersey No. 45. The other is physically.
"I'm the shortest, stockiest one out there," he said.
At 6-foot-1, he is indeed the shortest of the Jayhawks' regular linebackers -- by two inches -- and he weighs about the same as the 6-foot-4 Reid between 225 and 230 pounds.
Kane, a product of Kansas City, Mo., Rockhurst High's tradition-rich program, has eight tackles for losses -- two fewer than team leader Reid, a sack, a forced fumble, a blocked kick and an interception in KU's eight games.
That pass theft occurred in the opener against Tulsa and caused Kane to be showered with good-natured grief from his teammates because he stole the ball at the Tulsa 20 and was smothered two yards shy of the end zone.
Or as Mangino cracked afterward: "He had larceny in his heart, but lead in his feet."
Perhaps it was just too hot that day. The kickoff temperature was 89 degrees on Labor Day weekend, the theft happened in the fourth quarter, and Kane was dripping with perspiration.
In contrast, the wind chill Saturday in Ames, Iowa, was 38 degrees when Kane collected his career-high dozen tackles.
| | | | |
| --- | --- | --- | --- |
| | total tackles | TFL/yards | sacks/yards |
| Nick Reid | 83 | 10/42 | 3/18 |
| Tony Stubbs | 47 | 3/4 | 0-0 |
| Kevin Kane | 45 | 8/23 | 1/11 |
| Rodney Harris | 43 | 5/13 | 0/0 |
"I do like cold weather. I really do," Kane said. "I don't know why. I guess I don't like sweating that much. I just like it."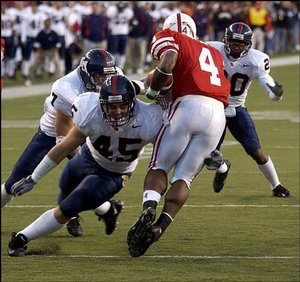 Still, Kane is no different than his teammates in his preference for playing games in Memorial Stadium. Saturday's game against Colorado will be the Jayhawks' first at home since Oct. 9.
KU has a 3-1 record in Memorial Stadium and an 0-4 record on unfriendly turf. The defense, so woeful on the road last year, has held three opponents to fewer than 17 points in games played outside Lawrence.
Lack of offensive production has been the stickler, but you won't hear KU's defenders gloating about the shoe being on the other foot this time.
"They supported us last year," Kane said of the other platoon, "and we have to support them this year."
It should be noted, too, that KU's special teams have been solid this season, and Kane can claim membership on that unit as well. He pulls an unusual double of playing middle linebacker and snapping the ball on punts.
In Kane's way of thinking, membership on the punt-coverage team gives him a head start. It's a way to make him one of the first defenders on the field.
"It's pretty easy," he said. "You just stay out there."
More like this story on KUsports.com