To go pro or not to go pro -- that is the question for today's top high school players.
But one of those elite prospects, Brandon Rush, isn't concerned about the NBA.
"It's not even on my mind right now," said Rush, a Kansas City, Mo., native whose Rocktown team is in town this weekend for the Sport2Sport/Jayhawk Invitational.
Ranked as one of the top-five juniors in the country, Rush returned to the Kansas City area Friday.
He played this past season for private school powerhouse Mount Zion Christian Academy in Durham N.C., the same school that produced Orlando Magic All-Star Tracy McGrady.
But Rush, a 6-foot-7 forward, insisted he was looking at colleges, not the pros.
"I'm just thinking about school right now," he said, with Oklahoma, Arkansas and Louisville being his current favorites.
Rush doesn't ignore the NBA completely. His brother Kareem, a former Missouri standout, comes off the bench for the Los Angeles Lakers.
"I tell him to take more shots and to quit passing them up," Brandon Rush said.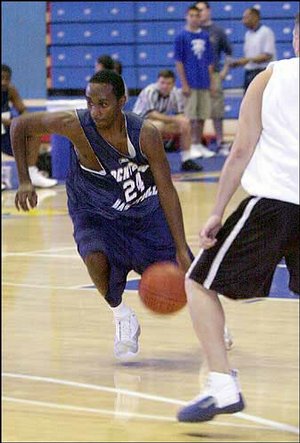 Rush's Rocktown club tangled Saturday with New Mexico and KU recruit Harvey Hale, a 6-4 guard, in 17-and-under competition. Rocktown won, 78-54, largely because of a player not named Brandon Rush.
Rush saw limited action, scoring six points after hurting a tooth in a 102-58 thumping of North Texas Rice Owls. Rush had 31 points in that game.
With Rush on the sideline, Marcus Walker wowed the crowd with 36 points.
Walker, a combo guard from O'Hara High in Kansas City, Mo., had KU on his original list, but he said the Jayhawks' stock had fallen since former assistant Norm Roberts left for St. John's.
The tournament will conclude with the 17-and-under championship at 2:45 p.m. today at Allen Fieldhouse. The 15-and-under and 16-and-under championships will start at 1:30 p.m. at the fieldhouse.
¢
Lift-off for Leo: After a quiet start, KC Pump N Run's Leo Criswell exploded for 18 points against MLK MASH of Fort Worth, Texas in an 80-57 win for his club. Most of Criswell's noteworthy play came in the second half as the big man showed an ability to run and shoot from outside. Criswell, a 6-9 forward from K.C. Piper, said his favorites were Oklahoma State and Marquette.
¢
Daily dose of Malik: Malik Hairston, a 6-6 high school senior from Detroit, had more discussions with family Saturday about his college choice.
Hairston's dad, Richard, told theinsiders.com that Malik and family members held a 31/2-hour meeting Saturday morning discussing the pros and cons of finalists Kansas, UCLA, Michigan, Ohio State, Oregon and Oklahoma.
Hairston's dad also said he talked to Michigan coach Tommy Amaker on Saturday morning.
"He and Michigan are right there in the thick of it," Richard Hairston said.
More like this story on KUsports.com