Gene Wayenberg doesn't mind being extra busy this time of the year.
Wayenberg, owner of Sun Creations, doesn't even mind hiring extra workers to crank out 15,000 NCAA Sweet 16 T-shirts this week.
And if you think that's a lot, just wait until next week -- if the Kansas University Jayhawks advance to the Final Four. Knock on wood.
"They don't get too excited about the Sweet 16," Wayenberg said. "The Final Four is when things get crazy."
Basketball is big business for KU and retailers that sell Jayhawk merchandise. Paul Vander Tuig, director of trademark licensing for the university, estimates the university makes an additional $250,000 from merchandising royalties when the men's basketball team advances to the Final Four.
KU receives a 10 percent royalty on items sold with a Final Four logo, 2 percent more than other Jayhawk gear. That means about $2.5 million in KU merchandise is sold for the Final Four.
But Sweet 16 merchandise is another matter.
Only two stores contacted Tuesday were selling Sweet 16 T-shirts. The KU Bookstore had sold only 40 or 50 of the shirts it had in stock beginning Monday, and the Jayhawk Bookstore just started selling Sweet 16 shirts midafternoon Tuesday.
Other stores plan to wait until the Final Four before ordering this year's NCAA tournament gear.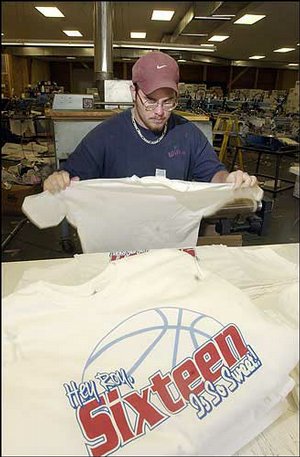 "What we see is people wait (to purchase T-shirts) once we get this far," said Steve Rhodes, acting director of the KU Bookstore. "I guess we're a little bit spoiled, going to the Sweet 16 four years in a row."
If KU wins two games this weekend, next week will be another story.
"I'd say it's huge," Rhodes said of a Final Four appearance. "It can really put us over the hump for the year. It's like an extra holiday for us."
Sun Creations and Prairie Graphics, both Lawrence companies, were going to benefit from the NCAA tournament no matter how far KU advanced.
Prairie Graphics has a contract to distribute T-shirts for all Sweet 16 teams at official souvenir shops inside tournament locations. Sun Creations was busy nonstop Monday and Tuesday to produce the 15,000 T-shirts.
If KU wins Friday, Sun Creations will have its equipment ready to print Final Four shirts Sunday night -- if KU wins again.
"We just need to get the team names right," Wayenberg said.
Prairie Graphics and Sun Creations aren't the only local businesses looking to cash in on the Jayhawks' success. Victory Sportswear, which isn't officially licensed by KU or the NCAA, also has designed a T-shirt poking fun at former KU coach Roy Williams, whose North Carolina Tar Heels lost in the second round to Texas.
The shirt's front says, "Hey, Roy, 16 is so sweet." The back reads, "Wish you were here -- Not!"
Victory Sportswear owner Larry Sinks, who last year designed the "Benedict Williams" T-shirts, said he had printed 300 to 400 shirts for the Jayhawk Bookstore.
"I was with a group of people the other night who were just rooting against North Carolina," Sinks said. "There's still passion about Roy being gone."
Sinks said he expected KU fans to swarm retailers next week if the Jayhawks advance.
"It feels a lot like 1988 (KU's last championship year), because people are passionate about the team, but they don't really feel like we're going to make it all the way," he said. "But I think we've got as much of a chance as any."