Kansas City, Mo. — Don't ask, don't tell.
That's the approach Kansas University junior Keith Langford is taking to deal with his ailing right knee.
"To be honest, I'm not 100 percent sure what's really going on with my knee right now," Langford said. "I don't really want to know, to tell you the truth.
"It's fine," he added. "It's not even a concern right now."
Langford, who has cartilage damage in his right knee, played 24 minutes in KU's 78-53 victory over Illinois-Chicago on Friday in the first round of the NCAA Tournament. He scored 13 points, grabbed seven rebounds and added two assists.
At one point in the second half, Langford briefly left the bench and headed to the Kansas locker room. He claims, though, that it had nothing to do with his nagging injury.
Langford admits the injury has hampered his athleticism and forced him to step up other areas of his game -- particularly passing the ball and playing with better court awareness on defense.
"I know that I'm probably not quite as explosive," Langford said. "There are things that I can do, but there's certain limitations."
Regardless, Langford -- like teammates Wayne Simien (groin) and J.R. Giddens (foot) -- certainly is not going to let the pain get in the way of an NCAA Tournament run.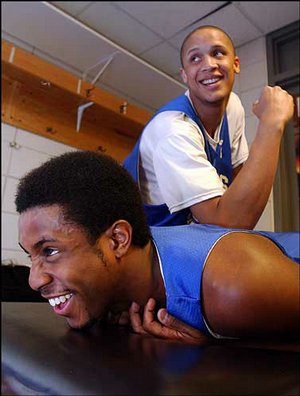 Once the run ends -- whether it's in the second round at 3:50 p.m. today against Pacific, next week in St. Louis or in the Final Four in San Antonio -- Langford probably will have surgery immediately to fix the problem.
"It's a unique year," KU coach Bill Self said. "We have guys that have bodies of 35-year-old men."
Until Langford goes under the knife, the Jayhawks will rely on him as much as they always have during his three years at KU. Friday, Langford spent much of the game guarding Cedrick Banks, Illinois-Chicago's big scorer. Banks finished with 15 points on 5-of-18 shooting.
"I wouldn't want it any other way," Langford said of being KU's stopper. "I'm not saying the other guys can't defend the other team's best player, but I take it as a personal challenge."
More like this story on KUsports.com