Feature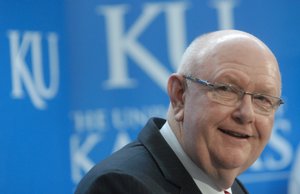 KU's 16th chancellor, Robert Hemenway, announced Dec. 8, 2008, that he would retire at the end of the current academic year. He's been chancellor for 14 years.
Kansas City, Mo. — Kansas University Chancellor Robert Hemenway stressed the need for serious academic reform in college athletics while speaking to dozens of sports media members Monday.
Hemenway, also the chairman of the NCAA board of directors, outlined in detail plans to help make college athletics more dependent on academic success at a luncheon at the Great Plains Associated Press Sports Editors convention at the Adams Mark Hotel.
"It's time to return to first principle," Hemenway said. "When we return to first principle at a university, we return to academic reform and to academic integrity. We exist fundamentally to educate students, and none of us can justify an athletic program which doesn't have that goal."
It was one of a handful of important issues Hemenway said would be front-and-center in discussion of college athletics during the next several years. Others included the recurring "ethical lapses" that take place within NCAA-sanctioned universities -- such as the recent scandals at Colorado and Baylor -- as well as the future of postseason college football and the increasing relationship between sports and politics.
Hemenway, who was accompanied by KU associate athletic director Jim Marchiony, spent much of the session discussing the somewhat-radical plans to re-emphasize academics among college sports teams. Among them are more strict eligibility standards out of high school, a 24-hour requirement for all first-year student-athletes to maintain eligibility, and the fulfillment of a certain percentage of a student-athlete's major at the end of each year.
For example, at the end of two years, a student-athlete must have 40 percent of his graduation requirements completed.
"You've got initial eligibility in place, and you've got continuing eligibility in place," Hemenway said of the plan. "You have to show you've made progress toward your degree."
Hemenway called the plan the "strongest academic reform in the history of the NCAA." Consequences, both positive and negative, will be in place for programs depending on how they work toward the goal of academic reform. Punishments eventually could include loss of scholarship and, to the exteme, postseason bans.
It's all part of the evolving collegiate model, Hemenway said, which was designed to be different from the dollar-driven professional model.
"I can understand why student-athletes are looking around and saying, 'Wait a minute. Our coach is getting X amount of dollars, and all I'm getting is a college degree,'" Hemenway said. "My answer to that is, that's the collegiate model. If you don't believe in the collegiate model. then you should go pro."
More time than money
Hemenway also said that about 3.7 percent of KU's budget went toward the athletic department, or about 30 million of an 800-million dollar budget.
He was asked if he spent more than 3.7 percent of his time focused on athletics, and said he certainly had during the shakeups involving the change of athletic director and men's basketball coach at KU last year.
"In my personal situation at KU, I've hired an athletics director I have a lot of confidence in," he said of Lew Perkins. "He meets with me once a week. I feel I don't have to spend a lot of my time with athletics. If you're program is in place, the president or chancellor can focus on things he should focus on."
Fifth-year opinion
Hemenway also was asked about the proposed idea of college basketball players getting five years of eligibility instead of the standard four.
"I think it's an interesting idea," Hemenway said. "It's well worth looking at. But I haven't really made up my mind about it."
He did speak highly of college baseball's way of keeping student-athletes around for at least three years. At a four-year institution, most baseball players aren't eligible for the draft until after three years on campus. Basketball has no such rule.
"I like the way baseball has done it," Hemenway said. "I think it's a good way of making the distinction of, 'are you a pro or are you an amateur?'"
More like this story on KUsports.com