Kansas University basketball coach Bill Self didn't pull an all-nighter in his office Thursday night -- the day before the start of the second semester at KU.
He came close, though, heading for the comforts of home around 2 a.m. Friday, or 3 1/2 hours after the No. 12-ranked Jayhawks' shocking 69-68 loss to Richmond at Allen Fieldhouse.
"We watched tape and talked," Self said of he and his assistants, whose Jayhawks will take an 11-3 record overall -- 3-0 in the Big 12 Conference -- into Sunday's 1 p.m. battle against Colorado (10-5, 2-2).
"We're fine," Self said of the mood of the coaching staff. "This is when coaching is challenging and fun. Now we get a chance to spin a negative into a positive and get heads right."
Self didn't need to spend a lot of time bolstering the morale of his troops during film sessions and shooting practice Friday.
"I don't think they (players) were down to the point where life doesn't go on or anything like that," Self said. "I think they are all good kids. All have got a good heart. They all care a lot.
"I don't think 'embarrassed' is the right word because they shouldn't be embarrassed. We tried hard. We just didn't get it done. What we should be is humbled and understand there's nothing for sure, and you can't take anything for granted.
"I think we've been a team that doesn't respect our opponents unless they have a big name by them or a reputation by them," he added. "We respect them, but not at the level we should. It's something this team cannot do. Obviously, it's happened a couple of times already this season."
KU's players made several mental mistakes in Thursday's loss.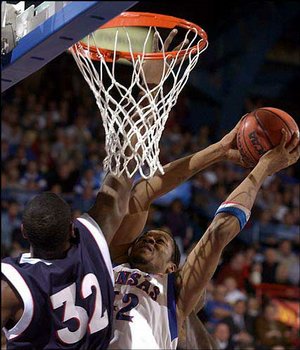 A big one, Self said, came after point guard Aaron Miles missed the second of two free throws with 57 seconds left, and KU up, 68-64.
After the second miss, two Jayhawk defenders chased the same Richmond player, leaving Patrick O'Malley open. O'Malley's three cut the gap to one with :47 showing.
"The play that bothers me the most," Self said, "we're up four and at the free-throw line. They (Spiders) substitute, and everybody is pointing to their man, making sure who they've got.
"Aaron missed the second free throw. We had two guys run to the same man to leave their guy wide open. If we just know who we're guarding off a free throw, it'd take 11 more seconds to shoot it. Now, they've got to foul and we're shooting free throws to ice the game as opposed to having run a possession."
Miles instead had a three-pointer blocked at :11.1, setting up a Tony Dobbins' game-winning 12 footer with just more than a second to play.
KU's final offensive possession -- the one that resulted in Dobbins' block of Miles' desperation three-pointer as the shot clock expired -- also irritated Self, who had called a time out to set up a play.
"We didn't have guys get in the right spots, run where we were supposed to run," Self said. "We run a little set we always run at the end of the shot clock against the zone. We didn't have everybody get in the right spots. We didn't execute.
"What bothers me is you leave a huddle after a time out and you don't execute. It's happened way too much this year. That always bothers a coach whether early or late in a game."
It all culminated in Dobbins sinking the game-winner.
"You've got to get a stop when the game is on the line," Self said. "We didn't. That's frustrating to me. We have not shown when it really counts most we can shut people out, to have that mindset that no matter what happens, if the other team doesn't score, we don't lose. We're very inconsistent with that."
That's too bad, because Self said the Jayhawks rebounded well Thursday and "it's the best we've run all year."
"Things are correctable," Self said. "In mid- to late January I'm disappointed we are still correcting a lot of these things."

Discussing the T: Self received the first technical foul of his KU coaching career Thursday. He thought Miles was hacked on a steal by a Richmond player in the second half.
"Over the course of the game I probably deserved it," he said. "Certainly I deserved it, not just (over) that deal, but I wasn't overly pleased the entire evening."

Bumps, bruises: KU watched film and held a light shooting practice Friday so Simien (groin strain), David Padgett (left foot) and Keith Langford (ankle sprain) could rest up in preparation for the CU game.

Richmond's reaction: Spiders coach Jerry Wainwright spoke to the Associated Press before boarding a plane Friday for Ohio where the Spiders play Xavier Sunday.
How does he plan on bringing his Atlantic Ten team back to earth?
"Make 'em really not like me," he said of his players. "We've got a cake right now with a lot of frosting on it. I'm going to have them eat green beans tonight with castor oil."
More like this story on KUsports.com