It was tough Saturday for Kansas University freshman David Padgett to sit helplessly and watch the Jayhawks get outrebounded by smaller, scrappier Texas A&M.;
"Yes, but it's tough to watch, period," the 6-foot-11, 230-pound Padgett said after the Aggies outboarded KU, 40-35, at Reed Arena in College Station, Texas.
"You always want to be in there so you can help your team."
The Jayhawks, who defeated the Aggies, 71-65, were outrebounded in both games Padgett missed while resting because of the early stages of a stress fracture in his left foot.
Kansas State outboarded KU, 41-38, Wednesday in a game the Jayhawks won, 73-67.
Yet KU also was outrebounded in the two games prior to Padgett's injury, victories over Colorado and Villanova.
For the year, No. 14-ranked Kansas, which has a sparkling 11-2 record, has been outboarded in seven of 11 games, with two games' rebound totals resulting in ties.
The Jayhawks figure it'll take more than Padgett's return -- he'll rest until Wednesday, then will practice in preparation for Thursday's 8 p.m. home battle against Richmond -- to start polishing the glass.
It'll take better effort and better hands.
Lots of rebounds squirted away Saturday at A&M.;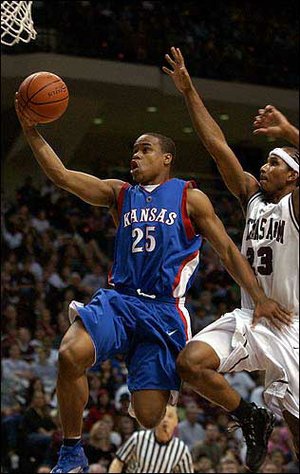 "For us, it was terrible," KU senior reserve Bryant Nash said of rebounding. He had zero rebounds in four minutes. "We lost a lot of them. We've got to get strong and hold onto the ball with two hands. There's a lot of balls bouncing around out there."
Junior forward Wayne Simien, who grabbed eight boards in 32 minutes, and Jeff Graves, who had zero boards in 30 minutes, both cited rebounding as a concern.
KU has been outrebounded, 117 to 115, in three Big 12 Conference games. For the year, KU averages 39.0 rebounds to opponents' 35. The 39 rebound average, if it holds all season, would be KU's lowest rebounding average since a 36.1 mark in 1992-93.
"We need more demeanor about us, box out and get the ball," Simien said. "But it was more than rebounding the ball. A couple veteran guys, myself and Mike (Lee, no points, four rebounds in 25 minutes) didn't play a lick. I can't play worse than that," added the 6-9 Simien, who hit two of 10 shots for six points.
"I feel I did some things, but I feel I can improve my rebounding," noted the 6-9 Graves, who scored 11 points, but suffered three turnovers, including two in which he fired the basketball out of bounds with no teammates in sight.
"We make so many silly mistakes, so many," coach Bill Self said.
One was Keith Langford picking up his third foul early in the second half by diving right onto an Aggie player.
"Keith gets his third foul by diving toward a ball that had already been secured," Self lamented. "We've got to get better."
The Jayhawks, who are a perfect 3-0 in the league, think they will get better. They're banking on it.
"I think so," point guard Aaron Miles said, asked if KU could win against top competition -- say, Oklahoma, Texas and Missouri -- playing as the Jayhawks did Saturday. "We've got big hearts. I definitely think we can win regardless of who we are playing."
"Maybe one day we'll break out," Nash said. "I think we will."
More like this story on KUsports.com