An avid Kansas University basketball fan, former KU coach Ted Owens has followed the Jayhawks this season.
Owens, a Tulsa, Okla., native, has impressions of Bill Self's first KU team, which takes a 17-7 overall record and 9-4 mark in Big 12 Conference play into today's 1 p.m. battle against Oklahoma.
"I think two or three things ... we all realize how good Hinrich and Collison were," Owens said of first-round NBA draft picks Kirk Hinrich and Nick Collison. "Also, they start a very young team, three juniors and two freshmen. I think they've done some nice things. Obviously Bill is a great young coach and the future is bright."
Owens, an investment banker, and his 1973-74 Jayhawks will be introduced to the fans at halftime of today's game to honor the 30-year anniversary of their trip to the 1974 Final Four.
Those players, who went 23-7 and lost to Marquette in the NCAA Tournament semifinals, have been nicknamed the "Comeback Kids" for improving from an 8-18 record in 1973 to 23-7 in 1974.
It's the greatest one-season turnaround in 100-plus years of Kansas basketball. Phog Allen's Depression-era 1928-29 team floundered at 3-15, then rebounded to 14-4 the next year for the second-best flip-flop.
Two personnel additions and a lineup change turned around the 1974 team.
The new faces were starters Norm Cook, a 6-foot-8 forward who would be honored as Big Eight freshman of the year, and Roger Morningstar, a 6-6 junior-college transfer.
Meanwhile, 6-10 junior Rick Suttle, who had led the Jayhawks in scoring with a 16.3 average during the 1972-73 season, became the team's sixth man. Suttle averaged 11.3 ppg but provided an invaluable punch off the bench.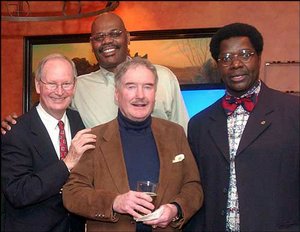 Point guard Tom Kivisto, the "glue of the team," was the only senior to play significant minutes. Leading scorer was the late Danny Knight, a 6-10 junior, who averaged 12.4 points and 7.1 boards a game. Morningstar averaged 12.3 points, Dale Greenlee 11.8, Cook 11.4, Suttle 11.3 and Kivisto 7.6.
"I don't think many people realized until late in the year just how much Tom Kivisto meant to our team," Owens said. "In many close games, he helped hold us together. He brought the ball up under pressure and quarterbacked our offense."
In the last year of a 24-team NCAA Tournament field -- it grew to 32 the next year -- the Jayhawks were sent to Oral Roberts University's Mabee Center for the Midwest Regional, where they beat Eddie Sutton-coached Creighton, 55-54, on Tommie Smith's back-door layup off a feed from Kivisto with 1:24 remaining.
Kansas tipped Oral Roberts, 93-90 in overtime, in the regional final after trailing by seven points with 2:40 remaining in regulation. In overtime, Smith scored two baskets off the spread offense in the last :44 to hand ORU its only home loss of the season.
"It was the guttiest performance I've ever seen," Owens said of the stirring comeback.
KU fell to Marquette in the national semifinal, then lost to UCLA in the third-place game.
"That UCLA team was one of their best ever," Owens said. "Their second team could have been the first team for most squads."
¢
Honor club: Owens has an opinion on some additional players who deserve to have their jerseys hung in the Allen Fieldhouse rafters.
KU officials have said new criteria will be examined in the future so some deserving Jayhawks' numbers will be included.
Owens mentioned greats like Darnell Valentine, Bill Bridges, Walt Wesley, Dave Robisch and Bud Stallworth.
"They've got to go up there. I think in time it will happen," Owens said. "It seems they went from the '30s and '40s to modern times, but skipped over some guys in between."
KU coach Bill Self wants deserving players recognized.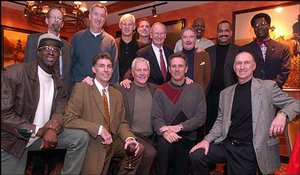 "In order to do it right, we need some time and we haven't had enough time to organize it," Self said. "There are a lot of things we will do in the future ... after this year."
Sports Editor Chuck Woodling contributed to this story
More like this story on KUsports.com