Marian Washington returned Saturday afternoon to Allen Fieldhouse and officially retired after 31 years as Kansas University's women's basketball coach.
A crowd of 2,200 -- about 800 more than the Jayhawks have averaged at home this season -- gave her a standing ovation. She smiled and waved to the crowd, then retired to the Jayhawks' locker room without saying a word.
With that, Washington's coaching career came to a close.
"It's a huge, huge loss. I cannot emphasize that enough," said Kathleen Hickert, one of Washington's former players and the president of the team's booster club. "I hurt, and my heart aches. My first concern is her health because I want her to get well, but I wanted her to get well and come back."
Many held out hope Washington would receive a clean bill of health for her undisclosed medical condition and return to the bench. But that wasn't to be.
Her future is uncertain, although KU athletic director Lew Perkins stressed the door was open if she wanted to return to the athletic department in a non-coaching capacity.
"I told her tonight that we're saying goodbye as a coach, but not goodbye to our family or friendship," Perkins said. "I really believe in my very short period of time here she has enriched my life. She will always be part of this if she chooses to be."
Perkins said the search for a successor hadn't begun.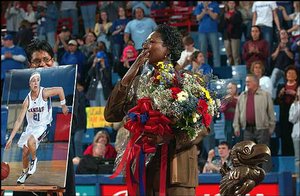 "We'll worry about the future starting on Monday," he said. "Today is a celebration of Marian."
Included in the crowd were friends, family, fellow coaches and former players, including Jennifer Jackson, a point guard who graduated in 2001.
"She's given of herself for 31 years and done so much for so many women, and for the game of basketball itself," Jackson said. "For so long she has been Kansas basketball, and I think that's really telling in the way that that everyone who has played for her feels about her."
KU football coach Mark Mangino was unable to attend the ceremony, but issued a statement of support.
"I have only come to know Marian in recent years, but I've always been impressed by her dedication and hard work," Mangino said. "A lot of young people have benefited from her expertise and devotion to the sport. I wish her the very best. She is truly a legend."
Washington had critics, too, primarily because she was not afraid to be outspoken when breaking down barriers for women's athletics.
She started the women's track program at Kansas, was the first female president of the Black Coaches Association and was the first African-American to coach a U.S. national team in international play.
Her accomplishments created thousands of opportunities for women in sports, but Washington often suffered backlash. Those closest to her said Washington never let that slow her down.
"A lot of people who have been critical of her over the years have never known who they're talking about, and that's so sad," said Renate Mai-Dalton, a KU business professor and friend since 1979. "She's just a person that cannot be replaced.
"She has always said her mission is to educate young people and prepare them to be good people and good athletes, and I think that is truly what she has done."
Now Kansas will move on and seek only the fifth coach in program history. KU had three coaches in its first five years before Washington became a mainstay.
Most fans don't know Kansas basketball without Washington, but Topeka resident and women's hoops fan Larry Tenopir said fans would learn to adjust.
"I think everybody here is very supportive of coach Washington," he said. "We all wish her well with her health concerns, and we will be here for the team next year, regardless."
More like this story on KUsports.com