Jeff Graves, who didn't suit up for Sunday's 19-point loss at Nebraska, remains a full-fledged member of Kansas University's men's basketball team.
"He's certainly still with the team," Jayhawk coach Bill Self stressed Monday, reiterating the 6-foot-9, 255-pounder was benched for performance-related issues, not off-the-court issues.
"He will be in uniform unless something unforeseen happens between now and the next game. I anticipate him to be in uniform. How much he will play remains to be seen. Whether he plays or how much he plays will be determined by some different things."
KU will play Baylor at 7 p.m. Wednesday at Allen Fieldhouse.
Self at his weekly news conference repeated his stance that Big 12 Conference rules allowed only 15 players to dress for road games and Graves was the odd man out Sunday because of his poor effort at practices after a 20-point loss to Oklahoma State.
"There's nothing off the court," Self said. "It was a coaching decision. He just had a really bad week.
"What happened was after we got it handed to us in Stillwater, we challenged the guys to recommit and work hard. We were going to play the guys that worked the hardest and gave us energy because our bench hasn't been as productive as what it potentially could be. Jeff did not respond to any of those type of challenges."
So Graves sat in favor of 15 other players, including four walk-ons.
"We have other guys busting their butts and paying their own way to school, trying really hard," Self said. "I just felt they deserved to be in uniform more so than Jeff."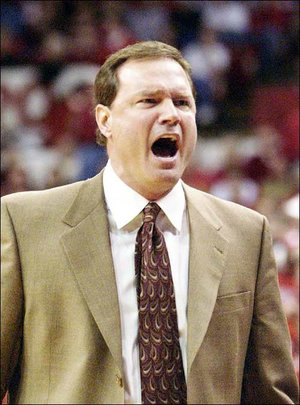 On his Hawk talk radio show, Self added: "If a guy hasn't done what he is supposed to do in practice, I don't think you should reward him by suiting him up. Regardless of what people think, that is what went down."
Self said the decision to sit Graves was made Thursday night and passed on to Graves the next day.
Graves has had a problem arriving on time to team functions and practices this season. He didn't start an exhibition game as punishment for arriving late at the fieldhouse for pregame activities.
He overslept for a Dec. 12 practice and was suspended for one game, then was reinstated to the team after a meeting with Self and Graves' parents. He lost his starting job Feb. 2 against Missouri for arriving late for shootaround.
Asked if he has considered kicking Graves off the team for good, Self said, "We've thought of a lot of things. Is it a distraction worthy of dismissing a youngster in his senior year from a basketball team? I would like for it not to be because I really like the guy and would like to see him do well and finish strong. If it gets to the point where it hurts the team, then you have to make decisions. We haven't gotten to that point yet.
"It is a situation I don't want to deal with any longer as far as handling negativity with Jeff. I just want him to take care of business," Self added.
Graves, who is off limits to the media indefinitely, was unavailable for comment. Graves' mother, Sharon, however, was willing to give her take on the situation.
"Apparently Jeff didn't meet the expectations and you get the consequences," she said, noting she felt her son would bounce back and do what it takes to get back in the lineup.
"I just want to be supportive to all of them -- Jeff, the coaching staff and team. It's what they need now," she said.
As far as Graves' problems this year, she said: "It's his senior year. A lot of things are probably on his mind. He needs to focus. They all need to focus on the next six weeks. He needs to look deep inside and figure what he truly wants and go for it.
"It's almost the same as last year," Sharon Graves added of her son, who reported to camp overweight in 2002 and was benched at the start of a game against Iowa State for arriving late for a practice.
"Jeff has had some bad things happen to him before and he's had the attitude to persevere, keep the attitude of picking yourself up and getting with the program."
She said when her son faces problems like suspensions from the lineup, she tries "to not be judgmental and I tell him, 'What would you do if you were wearing the other shoe, the coach's shoe?'" she said.
"I'm OK with Bill (Self). I wouldn't want to be in his shoes with all the expectations that go with being coach at Kansas. I just think everybody needs to chill out now. Things are not going the way everybody wants them to go now. The pressure is on and I think the coaches and kids are going to look at everything, evaluate and fix things."
That includes her son, Jeff Graves.
"Kids go up and down," she said. "You want consistency in them, but being human they falter. I think he will do what it takes. Of course I am the eternal optimist."
More like this story on KUsports.com