Wayne Simien grabbed a career-high 17 rebounds Saturday.
He thinks he should have had a whole lot more.
"It's frustrating," Kansas University's 6-foot-9, 250-pound senior forward said after a 96-77 victory over Texas Tech at Allen Fieldhouse, "because a few slipped through my hands. I should have done better than that. I've got to do better than that."
For what it's worth, his teammates and head coach think he did more than enough.
"Wayne was a beast," junior point guard Aaron Miles gushed. "He brings the same effort game in and game out."
Not bad for a guy who has played less than 100 percent most of the season because of a groin strain.
"He has been struggling health-wise. Yesterday he said he felt really, really bad (at practice)," KU coach Bill Self said. "He didn't practice the day before, and the Missouri game took a lot out of him physically with his groin. He was terrific today."
¢
Hip injury: KU freshman David Padgett scored 16 points despite falling hard on his left hip in the first half. He suffered a hip flexor in last Monday's win over Missouri.
"It's been sore all week," Padgett said. "I fell on it in the first half, and it hurt awhile, but I was able to stretch out, and it felt better the second half. It'll be sore, but I'll be fine."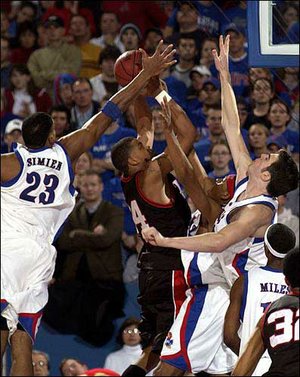 ¢
Flu-riddled senior: KU senior Jeff Graves scored seven points with no boards in 11 minutes.
"Jeff played well, but he has the flu, so I didn't play him as much," Self said.
¢
Comparisons made: Texas Tech coach Bob Knight was asked to compare Self's KU team to that of former coach Roy Williams.
"Good teams are good teams, and this is a damn good team," Knight said.
¢
Not showtime: Miles was asked if the Jayhawks' high-octane, 96-point outing was "Showtime."
"Showtime was the Lakers with Magic and Worthy," he said.
What was this, then?
"This was the Jayhawks, playing fast, but playing smart," he said.
¢
Emmett tough to guard: Keith Langford, J.R. Giddens, Michael Lee and others spent a lot of energy trying to guard Andre Emmett, who scored 29 points off 8-of-20 shooting.
"Emmett is a big dude," Giddens said. "He was weaving in and out of screens. I was like, 'Please help me with the screens.' I was like, 'Please stop and shoot the three.' He's really good, one of the best in the league."
Giddens tied a career high with 18 points, while Keith Langford had just eight points with six assists in 20 foul-plagued minutes.
"Keith didn't ever get in a rhythm," Self said. "Emmett is a great scorer, but Keith is third-best scorer in our league. He was a factor when he was in there, but not like he usually is."
¢
Jazzed about donations: Self is elated that $12 million has been donated to build a KU Hall of Fame and make improvements to Allen Fieldhouse.
"I think today's announcement of the gift is as important as anything that could happen in my tenure here coaching, no matter how long it is," Self said.
"I think what happens is when you have unbelievably great tradition, history, fan base and interest ... those things are terrific. For young people (recruits) coming in the summer when they don't get to visit when the arena is full, kids are still visual. I think we don't need to sacrifice any of these things to become a much more visual place.
"Kansas' athletic department should have as good a hall of fame as any in America," Self added. "Stop and think of the studs who have come through here in track and football and basketball. You add them up, and there's been some world-record holders. We need to have a place to honor those who came before us.
"We want a new scoreboard. We want to put in new windows. We want the whole place to be sandblasted and painted and fix up the concourse area where you walk around, and it's an event. People will want to get here early because they serve polish sausage in this corner and in that corner serve Italian. I'm excited. It'll do more for us than anything that will happen in my tenure."
¢
Going home: Self spoke about Monday's trip to his alma mater, Oklahoma State, where KU will meet the Cowboys in an 8 p.m. tipoff with first place in the league on the line.
Self played there four years and was assistant coach seven.
"It means a lot," he said. "When you think about it, Cindy (wife) and I spent 11 years of our adult lives there. I've not been back to Gallagher-Iba since 1996. I've not seen the building (expansion) or their hall of fame. I'll spend time checking it out."
Will the fans cheer or boo him?
"I don't know what I've done so bad to OSU except they had to watch me play," he quipped.
¢
This, that: KU has won 23 straight home Big 12 games. ... Langford had his 32-game double-figure scoring streak snapped after fouling out with eight points.
More like this story on KUsports.com