Think Neil Dougherty wishes he wasn't such a good recruiter while at Kansas University?
The TCU men's basketball coach may not have fathomed facing Wayne Simien, Aaron Miles, Keith Langford and Michael Lee just four years after recruiting them to Lawrence.
But he did, and the four combined for 49 points Thursday, leading KU to a 93-74 victory over the Horned Frogs at Allen Fieldhouse.
Dougherty's strengths as a seven-year KU assistant may have hurt him a bit as head man at TCU when the Jayhawks' talented senior class did plenty in allowing KU to pull away.
"They're pretty good, aren't they?" Dougherty said.
Of course, Dougherty always has known that. He knew years ago, when they were referred to as "Baby Jayhawks" in the days of Drew Gooden, Jeff Boschee and Nick Collison.
Now that they're all grown up, Dougherty got a view of the quad's development from an unsettling spot -- the TCU bench.
"Being on the other bench," he said, "was strange."
But Dougherty certainly had the Horned Frogs ready to play. Nile Murry was TCU's stud Thursday, scoring 20 points off three-pointers, alley-oops and 8-of-9 free-throw shooting.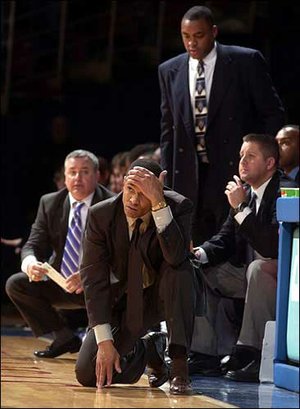 "I had pretty good rhythm starting from the free-throw line," Murry said. "It doesn't take many shots for a good shooter to get hot."
But TCU turnovers and a physical Jayhawk team helped stretch the lead near the end of the first half, and KU never trailed after going up 29-27 with 6:27 left before halftime. The Horned Frogs had another unwanted punch in the stomach in the second half when forward Chudi Chinweze was carried off the court because his left knee was in severe pain.
"It's a pretty serious knee injury," Dougherty said. "He's going back tonight in a private plane, and the doctors will be looking at it immediately. It did not look good."
Thursday's game is the end of a four-game road stretch for the Horned Frogs, and they'll play Southern Methodist on Sunday for their first home contest since Thanksgiving day.
As for Dougherty? Well, in a strange, special way, the Leavenworth native didn't see his team's tilt at Allen Fieldhouse as a road trip.
For him, it was a homecoming.
"It's always fun when I come back here," Dougherty said. "This is my home."
More like this story on KUsports.com