After working 20 years in Allen Fieldhouse, Doug Vance had heard plenty of stories about the home of Kansas University basketball.
But he gained a new appreciation for the building in the past year, when researching a book to commemorate the fieldhouse's 50th anniversary.
"It's a special place," said Vance, a former sports information director and associate athletic director at KU. "It's a cathedral of basketball in the state. I can't see it ever being replaced in my lifetime."
Vance and Jeff Bollig have teamed up to write "Beware of the Phog: 50 Years of Allen Fieldhouse," which was recently published to celebrate the building's golden anniversary. The fieldhouse was dedicated March 1, 1955.
The book, published by Sports Publishing LLC, is a decade-by-decade look at the fieldhouse's history. It is an official KU publication and is available at area bookstores.
The book includes a foreword by Lew Perkins, KU's athletic director, and an afterword by Bill Self, KU's men's basketball coach.
It also includes original blueprints of the building and a CD narrated by Bob Davis and Max Falkenstien, who do radio broadcasts of KU football and basketball games.
Bollig, an Overland Park resident who is communication director for the Golf Course Superintendents Association of America, said the authors' goal was to give a fresh look at the arena.
"We weren't always going to go to the star," he said. "We tried to tell it through people who painted the floor, who helped do the drawings, who snuck into games, to media, officials and opposing coaches."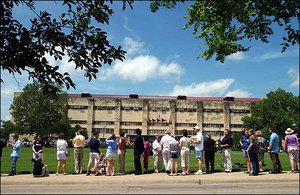 Opposing coaches Eddie Sutton, Norm Stewart and Rick Pitino are among the interviewees. A slew of former KU stars and others also give their thoughts on the building.
Vance, who now is executive director of the Kansas Recreation and Parks Assn., said he and Bollig spent hours in the KU archives and with other sources, reading box scores and learning as much as they could about the limestone fortress.
Each decade includes a list of fieldhouse highlights.
There are plenty of not-so-well-known details about the fieldhouse's history. For instance, the building almost wasn't built because of a lack of steel and other materials during the Korean War. And when it was done, birds infested the building because construction workers left food behind for them.
The book also chronicles nonbasketball activities at the site, including a handful of indoor collegiate track records that were set in the fieldhouse.
Jeff Bollig and Doug Vance, authors of "Beware of the Phog: 50 Years of Allen Fieldhouse," will sign copies of their book during two events this weekend.Vance will be at Oread Books in the Kansas Union from 10:30 a.m. to 12:30 p.m. today.Both authors will be at Children's Book Shop, 937 Mass., from noon to 1 p.m. Sunday.Copies of the book will be available for purchase.
Bollig, a former KU sports information employee, said he remained impressed that the fieldhouse was still in use after 50 years.
"It's very visionary," he said. "It's highly functional still -- very strong, very sound, great utilization of space from an office standpoint."
Vance said he hoped the book helped to celebrate the fieldhouse's 50th year. KU officials are planning a series of events in the spring the commemorate the occasion.
"Allen Fieldhouse is the highest-profile building on campus," Vance said. "It may be the most high-profile building in the state of Kansas because national television has come there so many times. This is a special place in the state of Kansas."
More like this story on KUsports.com