Johnny Beck hasn't received many votes of confidence during the last two years.
But Kansas University's senior kicker has the approval of the one man who matters right now: KU football coach Mark Mangino.
Mangino said Wednesday the kicking job was Beck's to lose.
"Johnny looks better than he ever has while I've been here," Mangino said.
As a freshman under then-coach Terry Allen, Beck was superb, nailing 14 of 20 kicks, including a 59-yarder at Colorado.
But Beck struggled miserably during Mangino's first two years at Kansas.
"Now it's either put up or shut up," Beck said. "You're either going to get the job done or we're going to replace you with somebody else."
As a sophomore, Beck, a Kansas City Piper product, received preseason honors as a Lou Groza Award candidate. Then the bottom fell out, and Beck went a dreadful seven-for-17 on field goals that year and made just nine of 16 last season.
Disgruntled fans frequently blamed Beck for close losses when he missed kicks. His 20-yarder that clanked off the left upright in the season-opening 28-20 loss to Northwestern last year was just one of the misses fans have not allowed Beck to forget.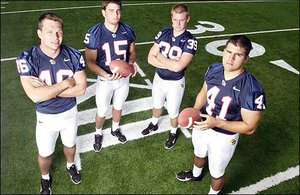 Criticism comes with the territory, though, and Beck hasn't shied away from it.
"Those people, they're fans, and I'm here to play for their school," Beck said. "If I don't do my job, they have the right to say what they want to say, whether that's good things or bad things."
KU special teams coach Clint Bowen said Beck had put the harsh words and memories of misses behind him, and that Beck's summer at Ohio State's kicking camp did wonders for his confidence.
"Johnny's doing well," Bowen said. "Johnny Beck, it's amazing. He has absolutely perfect form and technique and an incredibly strong leg. You talk about the tools, it's all right there. He's a talented guy.
"Johnny's learned that he has to control himself and when he does that and stays focused, he can get it done."
The Jayhawks must replace punter Curtis Ansel, a third-team All-Big 12 Conference performer now in his rookie season with the Detroit Lions, and freshman Kyle Tucker and senior Chris Tyrrell are battling for that spot.
Bowen said Tyrrell had an early edge on Tucker, an all-district kicker from Cinco Ranch High in Katy, Texas. Tucker boasted a powerful leg and solid fundamentals, Bowen said, but Tyrrell's experience was setting him apart.
"Tyrrell right now would be our guy," Bowen said of the Liberty, Mo., native, who served as KU's top punter in 2001. "He's been around, he's punted in the past and his operation time is a little bit better. In the end it'll come down to who's the most consistent day-in and day-out."
Freshman Scott Webb, a Tulsa, Okla., native, is the top candidate for handling kickoffs, a move that could give the Jayhawks a different player handling each kicking duty.
"Hey, if they can spend more time working on one thing each and getting better at one thing, then we'll keep 'em there," Bowen said.
More like this story on KUsports.com