Two NCAA championships were staged in Texas this month -- one in a spotlight, the other in a pinlight.
Less than a week after the men's basketball Final Four in San Antonio, the inaugural NCAA women's bowling championship was staged last weekend in Houston.
Women's bowling is the newest sport adopted by the nation's universities in an attempt to comply with gender-equity guidelines established by Title IX.
Will Kansas University join the growing list of NCAA schools that have declared women's bowling an intercollegiate sport?
"Obviously, we'd be thrilled if the athletic department wanted to consider bowling," said Mike Fine, now in his 20th year as coach of KU's men's and women's club teams.
On paper, however, KU does not really need it. A few years ago, KU officials did consider women's bowling for gender-equity purposes, but opted instead to add rowing and, later, to drop men's swimming and tennis to bring its male and female sports into acceptable balance.
Most of the other major universities followed similar paths. In fact, the bulk of the 42 schools that fund women's bowling at the intercollegiate level are either mid-majors or Division Two schools.
Nebraska alone
Nebraska is the lone Big 12 Conference school that funds women's bowling through its athletic department. Salaries, scholarships and travel take nearly a quarter-of-a-million-dollar chunk out of the NU athletics budget. The Cornhuskers, incidentally, toppled Central Missouri State to claim the first NCAA women's bowling championship Sunday in Houston.
As the number of schools offering women's bowling has grown, Fine has noticed increasing difficulty in recruiting women to pay their own way and perform at the club level.
"The university sells itself. It's a beautiful place," Fine said. "And we have a new state-of-the-art, 12-lane facility. So even though it's a club sport, we recruit nationally. But it's getting more difficult because we don't give scholarships."
Last week Fine learned that a prospect he was recruiting out of Albany, N.Y., would not be coming to Mount Oread.
"Arkansas State," Fine said, "offered her a full ride."
No doubt grants will make it more difficult to recruit, but there's a flip side epitomized by Kelly Zapf, the Jayhawks' top female bowler. Zapf is a junior from Rochester, N.Y., and she is downright pleased KU's women's bowling program is not affiliated with the NCAA.
"As far as equality, it's good," Zapf said, "but I'm glad we're not in the NCAA. And I pay out-of-state tuition, too."
Participation counts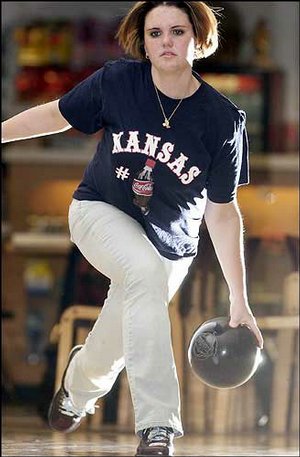 In a nutshell, Zapf prefers participation to remuneration.
"I was accepted at Nebraska and at Kansas," Zapf said. "I had a small academic scholarship to Nebraska, and the tuition there is less, but I had more of an opportunity to bowl here than I would have had at Nebraska."
Not many schools offering grant-in-aid to female bowlers offer large scholarships, according to Fine.
"Most have five full rides, and they divvy them up, usually spreading them out among 12 to 15 girls," the KU coach said.
Fine has a core group of seven women, and that's the way Zapf likes it because only five can compete in tournaments.
"If I had gone to Nebraska I would competed more with members of my team," Zapf said, "than being a member of the team."
Last year, for example, KU's female roster contained only five bowlers, the minimum. Yet the Jayhawks went to the IBC Tournament, where they rolled against both scholarship and nonscholarship teams and finished fourth.
"That was a great feeling to know that none of us were on scholarship and to know we worked hard to get to where we were," Zapf said.
WSU powerhouse
Traditionally, Wichita State has had the strongest men's and women's collegiate bowling program in Kansas. WSU does not offer scholarships, and its women's team has not joined the NCAA.
"They're awfully good every year," Fine said, "but they receive university funding, and they have full-time bowling coaches -- a head coach and an assistant."
Nebraska is in the NCAA, and Wichita State isn't -- a fact that strikes Zapf as curious.
"I mean, I like the NCAA thing, but the most competitive teams around here are Nebraska and Wichita State," she said, "and one is in the NCAA and one is not."
Fine coaches both the KU club teams, but that's not his official title. KU lists him as Recreation Coordinator/Bowling. As such, Fine's primary responsibility is overseeing the Jaybowl, now in its 50th year in the Kansas Union. A renovation project a couple of years ago brought KU's alleys up to contemporary speed.
"We have the same lanes they used at the NCAA championships," Fine said.
Not that the Jaybowl will ever play host to the NCAA meet.
"You need to have 20 lanes," Fine said, smiling, "and I'd have to excavate to get eight more."
Fund-raising priority
One thing is certain. If you're on a KU bowling team, you have to want it pretty bad. In order to compete, a KU bowler has to raise about $750 a year. Most of that money goes for travel expenses.
For instance, both the KU men's and women's pin teams qualified for the IBC championships starting Wednesday in Tulsa, Okla., thanks to strong showings at a regional meet in Lexington, Ky. The club teams' annual budget is about $22,000.
"We get nothing from student fees," Fine said. "Our big fund-raiser is getting per-pin pledges, usually from friends, relatives and local businesses.
"This is a real labor of love. Nobody is in it for the money."
More like this story on KUsports.com