You're reluctant to use expressions like "turning the corner" or "watershed" just five weeks into the season, but Kansas University football, down for so long, has won four straight, and that's been uncommon ground for too long.
Four in a row. Imagine that. And if it wasn't for that inexplicable loss to Northwestern in the season opener -- does the NCAA give mulligans? -- the Jayhawks would be, hold your breath, ranked in the Top 25 after Saturday's stirring 35-14 victory over No. 23-ranked Missouri.
Isn't this the same Kansas team that won only two games last season and went oh-for-the-Big 12 Conference? It is, and it isn't.
Until Saturday, the Jayhawks pretty much had displayed the same persona as last season -- decent offense, shaky defense. Kansas could rack up yardage -- as long as Bill Whittemore was healthy -- but the Jayhawks usually surrendered even more yards.
Then the Jayhawks rose up Saturday and played defense. Real defense. I'm sure on the bus ride back to Columbia, Mo., the Tigers still were wondering what hit them, how a defense as maligned as Kansas' could hold them to a paltry 196 yards. Brad Smith, generally recognized as the league's best all-around quarterback, was no factor, gaining a mere 95 yards.
KU coach Mark Mangino heaped kudos on defensive coordinator Bill Young and his staff, saying the defense was "awesome." Still, formations don't win games, players do, and the KU defenders clearly contributed their finest three hours since Mangino took over last season.
The way the fleet and strong-armed Smith was contained and then swarmed made it look like the Jayhawks were keying on him on every down. Not true.
"We didn't really have a spy out for him," linebacker Nick Reid said.
Nevertheless, the game plan was to give Smith a licking and see how long he could keep ticking.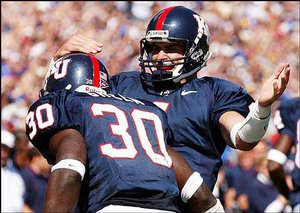 "Every time we hit him, he was getting frustrated," Reid said. "He got up slower and slower every time."
No secret had been made of the Jayhawks' collective dander being raised after last year's 36-12 loss to the Tigers -- note the similarity of that score to Saturday's -- when the MU players urged their fans to come out of the stands and crumble the goal posts, then joined them in the razing.
Saturday, the goal posts inevitably came down -- the first time at Memorial Stadium since 1999 after a win over, who else?, Missouri -- but the KU players did not egg the fans on. Nor did they, perish the thought, join in the melee.
"We weren't going to do that," Reid said. "We've got class."
The KU players did stick around to watch the sinking of the south goal post, however. Instead of streaming into the locker room in the southwest corner of the stadium, they stopped and watched the traditional postgame rite of an emotional football triumph.
"We definitely wanted to see if it would come down," Reid said. "That's a lot of fun."
Football is a lot of fun at Kansas these days. They say Kansas is a basketball school, but Saturday's sellout crowd and postgame enthusiasm proved that KU fans, students and administrators alike want to have a football team they can be proud of as well.
Yet the euphoria of late September can easily vanish. Just ask Iowa State. The Cyclones won six of their first seven last season, then dropped six of their last seven, thanks mainly to a murderous road schedule.
Kansas has no walks in the park ahead with road trips to Colorado, Kansas State, Texas A&M; and Oklahoma State, and the question will be: Can the Jayhawks' defense play as well on the road down the stretch as it did Saturday against Missouri?
"We've only played five games," KU safety Jonathan Lamb said. "We played well today, but we've had some lapses."
Whatever the remainder of the season holds, it is possible fans and sports writers alike may look back on Sept. 27, 2003, as the day Kansas climbed over the Big 12 Conference mountain and became a real player in football for the first time in a long time.
More like this story on KUsports.com