Now Missouri football coach Gary Pinkel knows what it is like to lose to archrival Kansas University.
Is it more painful than a loss to another team?
"Of course," Pinkel said Saturday after MU's 35-14 setback to the Jayhawks at Memorial Stadium. "If it isn't, there's something wrong with you.
"I feel awful about it. I'm sure my football team feels awful," added Pinkel, who entered the game with a 2-0 mark versus KU. "I feel bad for Missouri fans. It's my responsibility, and obviously I got outcoached today.
"We didn't play real well, and that's my job to do the coaching. I just didn't do very well today."
At least a couple of MU fans agreed, shouting insults about the play-calling to MU's coach as the 23rd-ranked Tigers (4-1 overall, 0-1 Big 12 Conference) headed to the locker room after KU improved to 4-1 and 1-0.
"What do you want me to do, start crying?" Pinkel said sarcastically, lashing out at a reporter who asked him what he thought of the MU fans' taunts. "You've gotta be kidding me. What kind of question is that? You've gotta be kidding me."
The Tigers, who led 14-13 after three quarters, had a rough day offensively, gaining 196 yards to KU's 318.
"We struggled all day long. We couldn't maintain a drive," Pinkel said. "When you have two drives for touchdowns all day ... I'm concerned about a lot of things on offense."
Sophomore quarterback Brad Smith completed 12 of 24 passes for a career-low 62 yards as KU's defensive backs blanketed receiver Darius Outlaw, who had just four catches for eight yards. Smith carried the ball 17 times for 33 yards, his long gain a 20-yarder.
"I guess you can say they played very well," Outlaw said. "It's going to take a lot to stop Brad Smith, and they gave us a lot."
Smith said it was a combination of KU playing well and the Tigers simply not clicking.
"They played a great game," Smith said, "but I have got to make the throws. We've got to hold our blocks. We have to make the catches. We have to point our fingers at ourselves. They did every thing we expected and did it well."
Running back Zack Abron gained 112 yards on 17 carries, but just 10 yards on two carries the fourth quarter. That's the quarter in which KU outscored MU, 22-0.
"We just didn't play ball today," Abron said. "I really feel like we were prepared, but they were also ready to go. They stopped us the second half."
KU quarterback Bill Whittemore had another big game, hitting 14 of 22 passes for 111 yards while rushing for 76 yards on 16 carries and two touchdowns.
"Anytime a good quarterback has time, he can scramble on you, and he's a great quarterback," MU linebacker James Kinney said.
"He did a real good job, especially in the second half," Pinkel said. "We were concerned about their passing game. They did good things there. They did a real good job of ball control and running the football."
The Tigers, who had to hustle quickly to the locker room to avoid getting stampeded by fans who tore down both goalposts, didn't seem miffed by the KU fans' show of emotion.
"That stuff is all out of our control," Missouri senior receiver Marcus James said. "Our fans did it to them last year, so they thought they should do it to us. They were just having fun."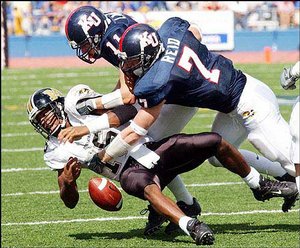 "KU played well and the crowd was great," offensive linemen Rob Droege said.
Like the Jayhawks, the Tigers have a bye this week. MU will play host to Nebraska Oct. 11 at Faurot Field.
More like this story on KUsports.com