Bill Whittemore's second Border War was much more satisfying than his first.
Whittemore, Kansas University's senior quarterback, even got to stick around for all four quarters Saturday at Memorial Stadium, leading KU to a 35-14 victory over No. 23 Missouri in front of a sellout crowd.
"We were moving the ball pretty well in the first half last year," said Whittemore, who passed for 242 yards Oct. 26, 2002, at Columbia, Mo., before suffering a season-ending knee injury in the third quarter of a 36-12 loss. "I wanted to finish that game. I was able to finish this one."
Kansas (4-1 overall, 1-0 Big 12 Conference) entered its league opener ranked first in the nation in pass efficiency and fourth in total offense.
Missouri (4-1, 0-1) was the first opponent to hold Whittemore to fewer than 200 yards passing this season, but the Tigers paid a price.
"I think their game plan was to stop the pass," said Whittemore, who completed 14 of 22 passes for 111 yards. "They gave us the run, and we took advantage of that in the second half."
Whittemore carried the ball 16 times for a season-high 76 yards and two touchdowns. Sophomore tailback Clark Green finished with 78 yards and two TDs in the Jayhawks' balanced running attack, and freshman backup John Randle added 61 yards and his first career touchdown.
KU coach Mark Mangino praised his quarterback's "game management" and said he sensed that Whittemore was poised for a great game.
"I looked in his eyes before the opening kickoff, and it told the story," Mangino said. "He came to play, and he came to make a statement. I think he did."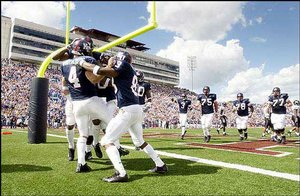 Freshman Charles Gordon set up KU's first touchdown with a 61-yard punt return to the Mizzou 14. Five plays later, Whittemore scored on a one-yard keeper.
Junior kicker Johnny Beck missed the extra point.
"I pushed it a little bit to the right," Beck said. "I bounced back and made the next three. That was the most important thing to coach and the team, that I come back and make the next one. ... The team did a good job of coming back after mistakes and playing well."
Missouri took the lead late in the quarter on a four-yard TD run by MU quarterback Brad Smith. It was a rare highlight for the sophomore, who threw for a career-low 62 yards and was limited to 33 yards rushing.
MU finished with 196 total yards.
"I think our defense did a good job of containing him," sophomore linebacker Banks Floodman said of Smith, a preseason Heisman Trophy candidate. "We stopped the pass and swarmed to the ball."
Kansas couldn't pull away, though. The Jayhawks lined up for a 36-yard field goal on the third play of the second quarter, but a bad snap thwarted Beck's attempt.
On KU's next possession, freshman receiver Moderick Johnson dropped what would have been a 44-yard touchdown pass in the end zone.
"We felt like we beat them pretty good in the first half," Whittemore said. "That set our mentality for the second half. We should have been up on them more."
Green's four-yard TD run gave KU a 13-7 lead at halftime. Johnson atoned for his earlier mistake by keeping that drive alive with a nine-yard catch on fourth-and-five at MU's 31.
Missouri opened the second half with a 13-play scoring drive. Smith took advantage of a substitution error in KU's secondary that left receiver Darius Outlaw wide open for a six-yard TD pass.
MU had a 14-13 lead, but the Tigers' momentum didn't last.
Whittemore engineered a 66-yard drive that took nearly six minutes off the clock. Moving against the wind, KU kept the ball on the ground for 11 of 14 plays. Green scored from six yards out on the first play of the fourth quarter.
"It kept them on their toes," Green said. "We were wearing them down."
KU made up for Beck's missed PAT when Whittemore tossed a two-point conversion pass to tight end Denver Latimore for a 21-14 lead.
Missouri punted into the wind on its next two possessions, giving KU excellent field position.
Kansas continued to dominate the line of scrimmage. Of 35 second-half plays, the Jayhawks threw only seven passes.
"We felt that we were prepared today," said MU offensive lineman Rob Droege. "But KU played a great game on offense and defense. Those guys really played their hearts out."
Whittemore scored on a four-yard run up the middle with 7:35 to play, and Randle scored from seven yards out with 3:21 to play to cap the scoring.
With less than a minute to play, KU students started to climb out of the stands, and both goal posts eventually came down. Unlike last year's game in Columbia, when MU players led the charge to the posts after their victory, the Jayhawks simply stood back and watched.
"We didn't want to do that," Whittemore said. "We thought it would be more classy to let our fans take care of that."
More like this story on KUsports.com