Despite a passing attack nationally ranked in the top five, KU scored five times on the ground in a 35-14 victory over No. 23 Missouri on Saturday at Memorial Stadium.
Clark Green and Bill Whittemore both rushed for two touchdowns, as KU (4-1) racked up 207 rushing yards -- 139 of which came in the second half.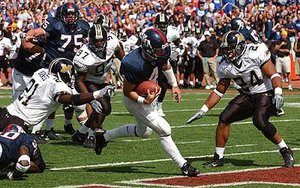 "Our offensive linemen made some holes and we hit them hard," Clark Green said about KU's second-half success on the ground. "We knew we could run the ball."
KU missed some chances in the first half -- including a field goal, extra point and wide-open touchdown pass -- and led just 13-7.
Green and Whittemore both rushed for touchdowns in the first half, but Johnny Beck missed the extra-point after the first score.
"That's a failing on my part and I'll get that fixed this week," KU head coach Mark Mangino said of the problems with bad snaps and missed kicks.
Missouri, which scored on a four-yard run by Brad Smith in the first half, was outgained by the Jayhawks, 149-88, in the first half, and had the ball three fewer minutes.
The Tigers (4-1) came out strong on their first drive of the second half, moving 72 yards in 13 plays and converting two fourth-down plays before Brad Smith threw to a wide-open Darius Outlaw for a 9-yard touchdown.
The Jayhawks gave up 44 rushing yards and left Outlaw wide open on that drive, and didn't do much better on offense. Clark Green ran for 11 yards on first down and Bill Whittemore ran for six yards on the next play, but KU then had back-to-back plays for negative yards before punting.
Missouri had a three-and-out on the ensuing drive, though, and KU took over at their own 28-yard line and moved right down the field. KU had six first downs before Green scored from six yards out. Whittemore hit Denver Latimore for the two-point conversion.
Whittemore scored on a four-yard run midway through the fourth quarter, and John Randle scored his first career touchdown -- a three-yard run -- late in the fourth quarter.
Whittemore finished 14-of-22 passing for 111 yards and rushed 16 times for 76 yards. Green had 78 yards on 17 carries, and Randle rushed 12 times for 61 yards.
KU held Smith to 95 total yards -- 33 rushing and 62 passing. Zack Abron rushed 17 times for 112 yards, but had just 10 yards in the final quarter.
The Jayhawks have a week off before traveling to Boulder, Colo., to face the Buffaloes on Oct. 11.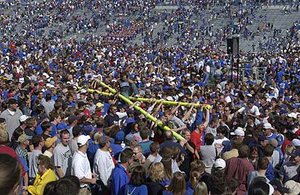 NOTES
Tight end Denver Latimore started in place of Lyonel Anderson, who was suited on the sideline. Anderson appeared to be injured in last week's game, and KU head coach Mark Mangino said he wasn't optimistic about Anderson for the game.
ony Coker started at right guard, but was hurt on KU's first drive. Travis Dambach replaed Coker on the offensive line, and linebacker Kevin Kane replaced Coker as long snapper. Coker returned on KU's next drive.
eck's missed extra point was his first of the season. He also has missed four of eight field-goal attempts.
The game's attendance was 50,071, the 13th largest crowd ever at Memorial Stadium and the largest crowd for a KU-MU game in Lawrence. It's the Jayhawks' first sellout since Nebraska in 2001.
he victory gave KU a 52-51-9 all-time lead over Missouri, snapped the team's five-game losing streak in conference openers, and marked the first time the Jayhawks started a season 4-1 since 1997. It also was the first KU victory over a ranked opponent since beating No. 17 Colorado on Oct. 24, 1998.
More like this story on KUsports.com