Call it Camp Mangino.
For the past two days, residents of Kansas University's Stephenson Scholarship Hall have set up camp near the southeast corner of Memorial Stadium, aiming to be the first group in the student section for today's Border War football showdown against Missouri.
Granted, it's only one tent -- a stark contrast to the hundreds of campers that usually occupy Allen Fieldhouse before a KU basketball game. But for the first time in years -- and the first time during the tenure of second-year coach Mark Mangino -- football fever has struck KU.
"What I've said about KU football is that I want one opportunity to tear down the goal posts -- just one. That would be enough for me," said KU junior David Shoemaker, one of the campers Friday afternoon. "And I think this is our best chance."
For the first time since 1997, the Jayhawk football team is on a three-game winning streak, and Kansas University students are talking about football -- not men's basketball -- in late September.
Starting Thursday night, Shoemaker and his fellow scholarship hall residents took up residence at the base of Campanile Hill, armed with sandwiches and soda pop, waiting in anticipation of the biggest home football game in years.
"Every year the fans have given the team a chance," said KU senior Chris Blunk, another Stephenson Hall camper. "But after some disappointing games early in the season, they stop coming. But as long as they keep winning, the fans will be there."
Longtime rivals
If the Jayhawks win today, it will carry added significance because it will come against Missouri. The Tigers and the Jayhawks have the second-oldest football rivalry in the nation and the oldest west of the Mississippi.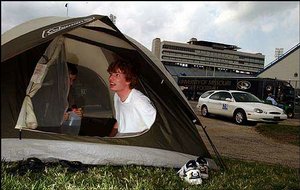 Today's matchup will be the 112th meeting between the two schools. The rivalry between the two institutions is traced to William Quantrill's raid of 1863 and the Civil War.
"I think they're still bitter about the Civil War," said Shoemaker. "We don't support slavery. If I were on one side of a rivalry, and I just knew I was wrong, I'd be pretty upset. I mean, I'd be upset, but not as upset as Missouri fans. They've taken it too far."
Blunk, an Omaha, Neb., senior, agreed with his tentmate.
"It's the way the fans hate us," he said. "It's Missouri. Besides, you have to hate somebody."
Missouri Street
Down the street from Camp Mangino and Memorial Stadium, KU sophomore Jackson Morley couldn't believe his misfortune. He loves the location of the house he shares with his three roommates -- just a block and a half from Memorial Stadium -- but he hates the address: 936 Mo.
"We're pretty ashamed," Morley said about the name of the street he lives on. "People drive by and throw stuff at our house, like cigarette butts."
Morley claimed that he tried to have the street re-named before today's game.
"We applied, but it didn't work," Morley said. "We can't change the street, so I guess we have to move."
Morley said his hatred of the Tigers was traced to proximity.
"We're just way too close to Missouri," he said. "I want to be close to some place like Texas. Anything but Missouri."
Sellout near
Today marks KU athletic director Lew Perkins' first exposure to the rivalry. Perkins was hired from the University of Connecticut in July.
"I've heard about it, but you really need to experience it," he said. "Every day for the past week, I've experienced it more and more. I'll have a much better feel for it after the game."
A sellout crowd and a win against a ranked Missouri team would do wonders for a Jayhawk program that is still rebuilding, Perkins said. The Jayhawks won just two games last year, and fell to the Tigers 36-12 on Oct. 26 in Columbia, Mo.
"This is a big game," Perkins said. "This is a big game for the kids, and it's a big game for the program."
It's also a big game for the ticket office. By late Friday afternoon, KU officials said 46,200 tickets had been sold for today's game. But they're still hoping for a sellout of Memorial Stadium, which has a capacity of 50,250. The last sellout at Memorial Stadium came on Nov. 3, 2001, against Nebraska, and nearly half the crowd was cheering for the Cornhuskers. Today, however, Perkins expects a stadium packed with Jayhawk fans.
"One of the exciting things is that tickets are now becoming a problem," he said. "People are scrambling, and I know that's tough for people but also very exciting. It's great for the program and great for the university when we have a tough ticket."
Setting their sights
If the Jayhawks win today's game, the fans may tear down the two sets of goal posts, and throw them into their traditional resting place, Potter Lake. Ironically, the last time the posts came down was also against Missouri, a 21-0 shutout on Oct. 23, 1999.
"Obviously, I'm concerned about the safety," Perkins said. "We support people having a good time, and we support the tradition. The only thing I ask is to please use caution, use your head, and don't do anything dumb."
But to the students camped out from Stephenson Scholarship Hall, tearing down the goal posts would make two days of camping worth it.
"I just want to go swimming in Potter Lake after the game," Shoemaker said. "That's my goal."
More like this story on KUsports.com