Manhattan — Bill Whittemore won't be Kansas University's starting quarterback Saturday at Texas A&M.;
Who will be taking the snaps is uncertain.
Whittemore, KU's senior captain, suffered an undisclosed injury Saturday in a 42-6 loss to Kansas State and likely will miss the rest of the season. Coach Mark Mangino turned to sophomore Brian Luke -- briefly -- and junior walk-on John Nielsen after Whittemore went down with what appeared to be a collarbone injury in the final minute of the first quarter.
Luke mishandled a handoff on his only play and was promptly yanked after the fumble led to a Kansas State touchdown.
Nielsen, playing for the first time this season, did not turn the ball over, but he didn't move the ball, either.
"It was a good experience," said Nielsen, whose playing time was limited last year at Palomar Junior College because of a thumb injury. "That's why I came here, to try and play. It was an experience like none other. It was a lot faster tempo than I've ever seen."
The crowd of 51,614 purple-clad fans at KSU Stadium also was the biggest and loudest the Californian ever had seen.
"I've never had to deal with crowd noise," said Nielsen, whose limited repetitions in practice came with the second string. "That was a huge change."
Nielsen lost 17 yards on six carries.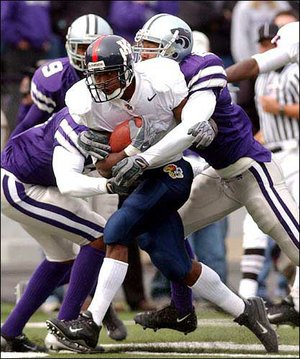 KU's play selection was conservative with the third-stringer in the game, and Nielsen averaged 4.1 yards on his eight completions. Kansas gained only five first downs without Whittemore in the lineup and crossed midfield only once.
Mangino now must decide who will lead his offense in the Jayhawks' four remaining games. Luke appeared to be in the doghouse after committing his third turnover while seeing limited playing time in three games.
With Kansas (5-3 overall, 2-2 Big 12 Conference) one victory from becoming bowl-eligible, true freshman Adam Barmann will get consideration from Mangino and his staff in the next few days.
"Don't be surprised to see Adam Barmann show up and play in College Station," Mangino said of the quarterback to whom he had hoped to give a red-shirt year. "We're going to take a look at him this week. He's probably not quite ready to play, but he's such a player and such an athlete that -- who knows? -- he might be a spark. We'll make a decision Monday night or Tuesday morning whether or not to take the red shirt off Adam Barmann."
Barmann was one of five quarterbacks suited for Saturday's game in Manhattan, but Mangino said Barmann was not ready to play against the Wildcats.
The 6-foot-4, 210-pounder was a two-time all-state and all-metro selection at West Platte High in Weston, Mo.
"I'm not worried about our team," Mangino said. "We'll dig in and find a way to get it done. But for Bill, I feel terrible."
More like this story on KUsports.com