Boulder, Colo. — Leading 35-24 and in control at halftime, Kansas University's defense melted down in the second half which proved lethal as Colorado stormed back and defeated the Jayhawks, 50-47, in overtime Saturday at Folsom Field.
"Give credit to Colorado," KU head coach Mark Mangino said. "They fought hard the whole game. We fought hard, but they fought harder. Today's game will benefit our program in the long run, and will be something we learn from. We have some things to work on, but we will keep up our effort."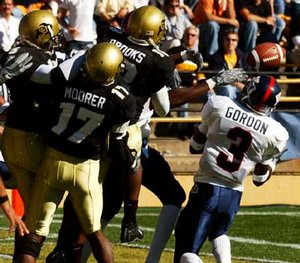 The Jayhawks -- who wasted a 422-yard, three-touchdown effort from quarterback Bill Whittemore -- allowed Colorado to march down the field time and time again, especially in the second half and overtime.
KU (4-2) allowed Colorado (3-3) to convert 9 of 15 third downs, missed a field goal, had both a punt and an extra-point kick blocked and committed two costly personal foul penalties. Both teams had six penalties, but KU had 24 more penalty yards.
"We can't do that, we have to make those plays," Mangino said about the blocked extra point. "We have played so well on special teams all year. Give Colorado credit, they did a good job on their part. We just didn't do a good job protecting."
In overtime, KU scored first on a 35-yard field goal by Johnny Beck, but Colorado moved the ball easily on their possession, and won the game on a 12-yard run by Brian Calhoun.
Colorado's drive in OT was close to a mirror image of the second half, when the Buffaloes moved the ball seemingly at will against KU's defense.
Trailing 35-24 at halftime thanks to a Hail Mary from Whittemore to Charles Gordon as the clock expired, Colorado scored twice on runs by Daniel Jolly in the third quarter. Both scoring drives were at least 11 plays and 3:41 long.
The game was tied after three quarters, though, because of a 21-yard field goal by Johnny Beck.
Beck missed a field goal on KU's first possession of the final period, but KU stopped Colorado on third down, and Whittemore -- who finished 19-of-29 passing -- hooked up with Mark Simmons three times on the ensuing possession, including a five-yard touchdown pass.
"He is our head receiver," Whittemore said of Simmons. "He wants the ball in his hands so he can make plays. I just tried to get him the ball and let him do what he does best. He makes my job easier as a quarterback."
Beck's extra-point kick was blocked, though, leaving KU ahead by just six points.
Colorado, aided by a pass interference call against KU and two long passes to Bloom, moved downfield easily until Monroe Weekley and Kenneth Thompson sacked Joel Klatt on third-and-eight from KU's 21-yard line. Mason Crosby kicked a 41-yard field goal, bringing Colorado within three points.
KU was stymied on its next drive, gaining just 10 yards, and punted.
With just less than four minutes remaining, Calhoun rushed for 26 yards on first down, and Klatt threw for 54 yards and led Colorado to KU's six-yard line. Crosby's field goal tied the game with fewer than 20 seconds remaining, and KU took a knee on the ensuing possession, sending the game to overtime.
KU looked to be in control late in the first half. The Jayhawks jumped out to an early 7-0 lead on a 64-yard pass from Bill Whittemore to a wide-open Brandon Rideau, but Colorado scored 17 unanswered points. Klatt hit Joe Klopfenstein for a 48-yard TD and scored on a one-yard run, and Crosby hit a 23-yard field goal. The 17 first-quarter points were the most KU has given up in any quarter this season.
The Jayhawks drew within three points early in the second quarter on a seven-yard run by Whittemore and took the lead back on a one-yard run by the quarterback.
CU regained the lead on a pass from Klatt to D.J. Hackett, who was wide open in the middle of KU's zone, but Clark Green scored on a nine-yard draw with two and a half minutes left in the second quarter, and Gordon caught the Hail Mary pass on KU's next possession.
Green finished with 103 yards on 17 carries for KU, and Whittemore rushed 15 times for 45 yards.
Simmons led KU with a career-high 152 receiving yards on six catches, and Rideau caught five passes for 107 yards. Green caugh four passes for 72 yards, and Gordon and Latimore both had two receptions for 41 yards.
Klatt finished 38-of-54 passing for 419 yards, and rushed for seven yards on four carries. His 419 yards were the fourth-most against KU ever.
Calhoun rushed 24 times for 135 yards, and Jolly finished with 17 yards on six carries.
"We just didn't have a very good game defensively," linebacker Banks Floodman said, "and we can't do that against a good Colorado team. We just didn't tackle today, and I have no explanation for that. We just didn't make plays, plain and simple."
Hackett and Derek McCoy both caught eight passes -- Hackett for 93 yards and McCoy for 72 yards. Bloom had five catche for 97 yards, and Monteilh had 45 yards on five catches.
NOTES
Whittemore is now third on KU's touchdowns-responsible-for list. He now has 42 total touchdowns rushing and passing. His career-high 422 yards is second on KU's all-time single-game list.
Whittemore's 467 total yards is also second on the all-time single-game list for the Jayhawks.
This is the first time KU has scored 35 points in five consecutive games.
KU's 47 points were the most ever in a Jayhawk loss. The previous record was 42 points in a 45-42 loss to Utah in 1996.
The game also marked the first time Colorado had given up 47 points and won. Colorado's previous record for points allowed in a victory was 42 to Iowa State on Nov. 9, 1996.
Colorado is now 104-0 all-time when scoring 43 or more points.
The combined 97 points were the most in a KU-CU game, eclipsing the 82 points scored in Colorado's 53-29 victory last season.
This is the Jayhawks second overtime game, their first since a 39-37 win over UAB on Sept. 26, 1998.
Klatt's 38 completions and 54 attempts were both Colorado records. His 419 passing yards were the fourth-most in Colorado history.
Rideau's touchdown catch was the longest reception of his career.
KU brought five quarterbacks to Boulder -- Whittemore, Brian Luke, Adam Barmann, John Nielsen and Kevin Long. Redshirt freshman quarterback Joe Hogan did not travel with the team.
Other Jayhawks not on the travel squad included defensive tackle Tony Strickland and second-string punter Walker Douglas.
Denver Latimore started at tight end. First-string tight end Lyonel Anderson has been battling an injury since the Jacksonville State game.
True freshman Zack Hood was the long snapper on KU's first extra point. He was the fourth long snapper KU has used this season. Kevin Kane snapped on punts.
Joel Klatt started at quarterback for Colorado. Running back Bobby Purify was not suited.
Sid Bachmann started at defensive tackle for KU instead of Chuck Jones.
More like this story on KUsports.com