Blake Ferrel isn't daunted by the nine-hour drive he'll make today to Boulder, Colo.
The Kansas University football fan already made the trek west to Wyoming this season.
"It wasn't that bad," Ferrel, a KU junior from Leawood, said of the 10-hour trip he and two friends made to Laramie, Wyo. "Coming back was terrible. It seemed like it took forever. It was worth it. We're all big fans."
KU's fan base is growing, and with good reason. The Jayhawks' 42-35 victory Sept. 13 at Wyoming was part of a four-game winning streak that has revived interest in a program that hasn't had a winning season since 1995.
A sellout crowd packed Memorial Stadium for a 35-14 victory Sept. 27 over border rival Missouri, and it appears KU fans don't want to wait until an Oct. 18 Homecoming date with Baylor to see their Jayhawks play again.
Kirk Cerny, the KU Alumni Association's senior vice president for membership services, estimated at least 2,500 Jayhawk fans would be in attendance Saturday afternoon when Kansas (4-1 overall, 1-0 Big 12) meets Colorado (2-3, 0-1).
"There's obviously electricity around this game," Cerny said. "Most of the phone calls I've received today -- and this week -- have been from KU fans near and far who are going to CU."
KU alumni cluster
Colorado is home to one of the nation's largest clusters of KU graduates, with 4,500 alumni. Cerny said he expected one of the Alumni Association's "largest crowds ever" for a pregame tailgate party at the Millennium Harvest House Hotel near Folsom Field.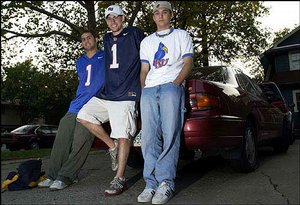 Sal Wolf will be there. The 1998 KU graduate and Denver resident will make the 30-minute trip north on a chartered bus with 49 other Jayhawk fans.
"It's a big party on wheels," Wolf, a sales representative for citysearch.com, said of his ride, which comes complete with couches, disco ball and a bar.
His alumni group also hired a Boulder barbecue to cater its pregame festivities. But the game -- 1:30 p.m. MDT, 2:30 p.m. CDT -- will be the main attraction.
"I'm real excited," Wolf said. "We're 4-1. We're in bowl contention. What coach Mangino has done so far is amazing."
Coach Mark Mangino's team already has won twice as many games as it did in 2002, his first season, when the Jayhawks finished 2-10 overall and didn't win a league game. KU's victory against Missouri in the league opener put the Jayhawks atop the Big 12 North Division standings with Nebraska (5-0, 1-0).
Colorado won the Big 12 North titles in 2001 and 2002, but the Buffs are mired in a three-game losing streak.
"A lot of my friends from high school go there, so I'm looking forward to visiting and giving them a hard time when KU wins," said Chris Kaufman, a junior from Centennial, Colo.
By land, by air
Kaufman's mother works for United Airlines, so he and two friends were able to book a cheap flight for Saturday morning from Kansas City, Mo., to Denver.
Not everyone is so lucky.
Matt Anderson and four of his friends will cram into a Nissan Maxima today for the long drive west on Interstate 70.
The Kansas University Alumni Association plans a rally for Jayhawk fans before the game at the Millennium Harvest House Hotel in Boulder, Colo.When: 10:30 a.m. MDT Saturday.Where: 1345 28th St.What: There is no charge for admission. Vendors will sell food and beverages.
"It won't be comfortable," said Anderson, a KU sophomore from Crystal Lake, Ill. "But it'll be cheaper with five guys splitting gas. We don't have any money, and tickets are like $50."
Anderson bought his tickets on eBay. Kaufman and his friends were fortunate enough to get their $45 tickets from KU's ticket office while supplies lasted.
Kansas associate athletic director Jim Marchiony said Big 12 rules allowed visiting teams to request up to 3,800 tickets from host schools. KU asked CU for 1,000.
It wasn't enough; they're gone.
"I'm being told that's the biggest allotment we've taken for a Colorado game for as long as anybody can remember," Marchiony said.
Fans like Kaufman and Ferrel already are making plans to attend KU's remaining road games -- Oct. 25 at Kansas State, Nov. 1 at Texas A&M; and Nov. 15 at Oklahoma State. If Kansas continues to win, the Jayhawks might need to increase their allotment.
"That's to be determined," Marchiony said. "I'm not into predictions. I think demand will be strong."
Colorado officials said Thursday that about 2,000 tickets were still available for the game, which coincides with Parents Weekend.
More like this story on KUsports.com