Neil Dougherty is long gone but not forgotten at Kansas University.
His legacy lives on in a group of students -- "Neil's Atomic Fireballs" -- that still camps for seats at Allen Fieldhouse two seasons after Dougherty's last game as a KU assistant.
Dougherty, a former Leavenworth High basketball standout who sat on the bench next to Roy Williams for seven years, started a tradition of eating Atomic Fireball candy before and sometimes during Jayhawk games.
"That is funny how that took off and is still going strong," said Dougherty, Texas Christian University's second-year head coach.
"It started as, 'If you are injured and not playing tonight, inside the locker room you had to take a Fireball," explained Dougherty, whose Horned Frogs play host to the Jayhawks at 10 p.m. Monday at Meyer Coliseum in Fort Worth, Texas.
"You had to suck on the Fireball. You couldn't bite it. If you did it right, the team would play well. If at any part of the game the team needed momentum, you'd suck on another. T.J. Pugh was injured and hated them. I said, 'Get healthy, and you won't have to touch one.'"
Fireball craze
The group of campers took the name after hearing about Dougherty's candy technique.
"After that, it took off," Dougherty said. "Fans would deliver Atomic Fireballs to the team hotel on road trips. The people at the scorer's table would ask for some. I'd give the trainers some. A couple of referees actually came up and asked for them.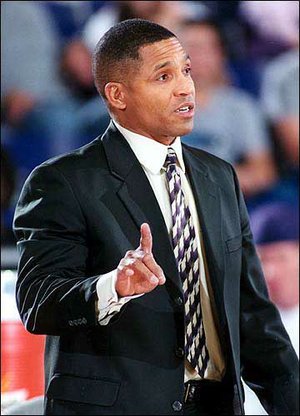 "We only had one player who actually liked them -- Lester Earl," Dougherty said. "He'd come in my office, say, 'Where are those Fireballs?' and put his hand in the jar and take some.
"One time Luke Axtell's grandmother sent me a huge mason jar of big peppers (from Austin, Texas). There was a note that said, 'This is a Texas Fireball.'"
Dougherty said he hadn't started the Atomic Fireball tradition yet at TCU, but for good reason -- he has had a lot of other things on his mind as he has tried to build the foundation for a strong program.
Last year long
"Well, it was a challenge," Dougherty said of his first season, which resulted in nine wins against 19 losses. "I don't think I was surprised as much because I was not expecting to come down here and have this place be like Kansas."
Dougherty, 42, replaced Billy Tubbs, who left TCU to become AD and now head coach at Lamar. Dougherty received approval for new basketball offices, a new practice facility with weight room, a remodeled locker room and a new floor for 7,201-seat Meyer Coliseum.
"We've done a lot of things in one year, coaching a change in attitude and direction," Dougherty said. "It gives you an understanding of how many people's hands in different offices it takes to have a solid program like Kansas. People don't appreciate what they have at Kansas just to get the program to game day."
Losing stinks
Losing was something new -- and unpleasant -- for Dougherty.
"I think it was (tough on him)," said Dougherty's son, Neil, a freshman point guard for the Frogs, who played two years at Free State High and his final year at North Crowley (Texas) High. "He doesn't like to lose in anything. He's not used to losing. In Kansas, every time Kansas loses, it's like, 'What's wrong?' Here they were struggling, but this year we've done a better job of competing and maybe having pride, one of those hate-to-lose attitudes. I think we'll be better."
The elder Dougherty believes he has an improved team, but doesn't know if the Frogs, 1-1 after Saturday's 74-62 loss to Tulsa, will give the Jayhawks a good game.
"It's really kind of unique," Dougherty said. "Think about it ... every player on the floor I've either recruited or coached. Some I've recruited and coached.
"J.R. Giddens ... I knew he was coming to Kansas before I was coming to TCU. Jeremy Case, Omar Wilkes, David Padgett ... they weren't done deals yet, but I remember watching them as young kids.
"On Monday night, I might look at one of my players and say, 'B.A. (Blake Adams), do this and that,' and the next second see Aaron Miles and say, 'Come on, Aaron, make a better decision.' If Aaron makes a good play, I may say, 'That's my boy.' The situation is strange."
No Roy
What also is strange is Dougherty going up against a KU team coached by somebody other than his mentor, Williams.
Bill Self is KU's first-year coach; Williams, who set up a home-and-home series with TCU as a favor to Dougherty, is now at North Carolina.
"For Neil Dougherty personally," Dougherty said, "I'd like to look down the sideline and see coach Williams. Now instead of sharing a bench, we'd be sharing a court.
"I'd like to tip my hat thanks to him for getting this chance. It would have been nice to get a chance to do that."
Dougherty said he couldn't imagine his emotions next year when the Frogs make a return trip to Allen Fieldhouse.
"When I signed the contract to play the games, I had goosebumps," Dougherty said. "That shouldn't surprise me because I had goosebumps every day for seven years when I walked through the tunnel at Allen Fieldhouse for games. It's a special place and a time in my life I will not forget."
KU's players who know Dougherty said they would never forget him.
"Coach 'D' is a great coach and an even better person," said KU junior Aaron Miles, also recruited by Dougherty. "He's going to do a great job at TCU. He's already done a good job there. I wish him the best of luck in his career. He deserves it."
More like this story on KUsports.com